Troll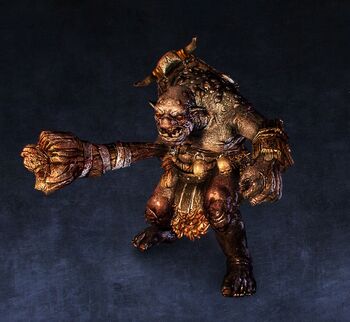 The mighty Troll. These vicious brutes hail from the Misty Vale, a secluded region up in the mountains where few dare tread. While they may not be the brightest, they make up for it with their ability to pound you into the ground with a mighty swing of a club roughly the size of you. If you would like to arrange a meeting with said club, the trolls will be happy to oblige.
Following the trolls, we have a twisted breed of Half-Trolls. This tribal group has originated from the disturbing mingling of troll and human, the details of which are best left unmentioned here. They are a primitive bunch, but their bond with nature is strong. Their shamans are capable of unleashing powerful spells both intended to harm you and to prevent harm to their brethren. Only a fool would underestimate these simpleminded tribals.
Trolls are a type of Beastkin enemy creature, and are encountered in the Barren Highlands, Smuggler's Pass and East Marsh areas.
Constellations
Tier 1

Anvil • Empty Throne • Falcon • Hammer • Harpy • Owl • Shepherd's Crook • Toad • Wolverine

Fiend • Ghoul • Jackal • Rat • Viper • Vulture • Wretch

Akeron's Scorpion • Bat • Eye of the Guardian • Fox • Hawk • Quill • Raven • Scholar's Light • Spider

Assassin's Blade • Crane • Dryad • Lion • Panther • Stag • Tortoise

Bull • Eel • Gallows • Hound • Imp • Lizard • Sailor's Guide • Tsunami • Wraith
Tier 2
Affliction • Alladrah's Phoenix • Amatok the Spirit of Winter • Assassin • Autumn Boar • Bard's Harp • Behemoth • Berserker • Blades of Nadaan • Bysmiel's Bonds • Chariot of the Dead • Crab • Dire Bear • Harvestman's Scythe • Huntress • Hydra • Kraken • Magi • Manticore • Messenger of War • Murmur, Mistress of Rumors • Oklaine's Lantern • Revenant • Rhowan's Crown • Rhowan's Scepter • Scales of Ulcama • Shieldmaiden • Solael's Witchblade • Solemn Watcher • Staff of Rattosh • Targo the Builder • Tempest • Typhos, the Jailor of Souls • Ulo the Keeper of the Waters • Wendigo • Widow
Tier 3
Abomination • Aeon's Hourglass • Attak Seru, the Mirage • Blind Sage • Crossroads • Devotion • Dying God • Ishtak, the Spring Maiden • Leviathan • Light of Empyrion • Mogdrogen the Wolf • Obelisk of Menhir • Oleron • Rattosh, the Veilwarden • Spear of the Heavens • Tree of Life • Ulzuin's Torch • Ultos, Shepherd of Storms • Unknown Soldier • Vire, the Stone Matron