Swarm Queen Ravna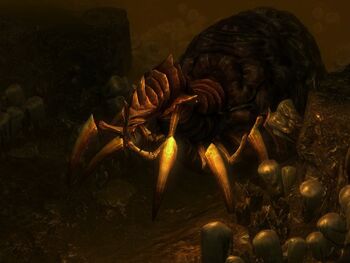 Swarm Queen Ravna is a unique Boss creature that can be found in the final sub-area of the Royal Hive, Hive Queen's Lair. Killing her is necessary to complete the Culling the Swarm quest.
The entire room is filled with eggs ready to hatch Weavils.
The Boss fight is divided in two stages:
1.) Ravna is immobile at first, attached to her abdomen, summoning Dermapterans to fight the player and attacking  with  poison projectiles.
2.) Once her health bar is fully depleted, Ravna detaches herself from her abdomen, becoming mobile and pursuing the player with melee attacks.
Family: Insectoid
Genus: Dermapteran
Level 4 Hero/Boss Resistances
Fire Resistance 15%
Reduced Freeze Duration 500%
Reduced Petrify Duration 500%
Pierce Resistance 20%
Sleep Resistance 500%
Reduced Stun Duration 500%
Reduced Entrapment Duration 500%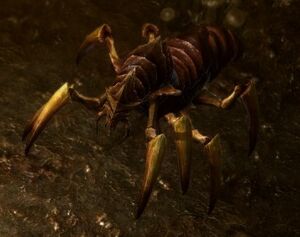 Acid Impale
Drop Ceiling
Charge
Constellations
Tier 1

Anvil • Empty Throne • Falcon • Hammer • Harpy • Owl • Shepherd's Crook • Toad • Wolverine

Fiend • Ghoul • Jackal • Rat • Viper • Vulture • Wretch

Akeron's Scorpion • Bat • Eye of the Guardian • Fox • Hawk • Quill • Raven • Scholar's Light • Spider

Assassin's Blade • Crane • Dryad • Lion • Panther • Stag • Tortoise

Bull • Eel • Gallows • Hound • Imp • Lizard • Sailor's Guide • Tsunami • Wraith
Tier 2
Affliction • Alladrah's Phoenix • Amatok the Spirit of Winter • Assassin • Autumn Boar • Bard's Harp • Behemoth • Berserker • Blades of Nadaan • Bysmiel's Bonds • Chariot of the Dead • Crab • Dire Bear • Harvestman's Scythe • Huntress • Hydra • Kraken • Magi • Manticore • Messenger of War • Murmur, Mistress of Rumors • Oklaine's Lantern • Revenant • Rhowan's Crown • Rhowan's Scepter • Scales of Ulcama • Shieldmaiden • Solael's Witchblade • Solemn Watcher • Staff of Rattosh • Targo the Builder • Tempest • Typhos, the Jailor of Souls • Ulo the Keeper of the Waters • Wendigo • Widow
Tier 3
Abomination • Aeon's Hourglass • Attak Seru, the Mirage • Blind Sage • Crossroads • Devotion • Dying God • Ishtak, the Spring Maiden • Leviathan • Light of Empyrion • Mogdrogen the Wolf • Obelisk of Menhir • Oleron • Rattosh, the Veilwarden • Spear of the Heavens • Tree of Life • Ulzuin's Torch • Ultos, Shepherd of Storms • Unknown Soldier • Vire, the Stone Matron