As part of the Unified Community Platform project, this wiki and 38 others will be migrated to the new platform in the next few weeks. Minimal changes are expected as part of this migration. Read more here.
Soldier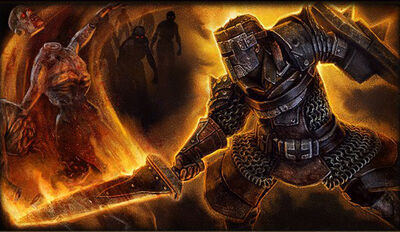 A soldier excels in the thick of it. He charges into battle and unleashes crushing might upon his foes. One man and many monsters may enter; but only one man and some bloody smears will leave. Soldiers excel with melee weapons and shields, but are not restricted to them. Most of his skills do not carry any weapon requirements at all.
Soldiers of the imperial army were trained to survive in the most hellish conditions and hold the line against the nastiest enemies of the empire. Soldiers prefer the use of close combat weaponry, such as a sword and shield, but can also prove formidable with firearms. What a Soldier may lack in outright damage output is made up for in fortitude and leadership.
Markovian's Advantage

---

01/12
Can activate with all default weapon attacks.


8%

Chance to be Used


128%

Weapon Damage


10

Physical Damage


+15%

to All Damage


30

Reduced Target's Defensive Ability for

5

Seconds

---

12/12

25%

Chance to be Used


122

Physical Damage


+125%

to All Damage


150

Reduced Target's Defensive Ability for

5

Seconds

Zolhan's Technique

---

01/12
Can activate with all default weapon attacks. When used with a melee weapon, the attack strikes multiple nearby targets.


8%

Chance to be Used


120

Degree Attack Arc


3

Target Maximum


110%

Weapon Damage


50

Internal Trauma over

2

Seconds


15%

Slower Enemy Attack for

2.8

Seconds

---

12/12

25%

Chance to be Used


175%

Weapon Damage


240

Internal Trauma over

2

Seconds


33%

Slower Enemy Attack for

10

Seconds

Oleron's Rage

---

01/12
This ability must be toggled to maintain its effect.
Exclusive Skill - Only one exclusive skill can be activated at any one time.


30-50

Internal Trauma over

5

Seconds


+25%

Physical Damage


+25%

Pierce Damage


+25%

Internal Trauma Damage


+1%

Offensive Ability


+1%

Movement Speed

---

12/12

140-195

Internal Trauma over

5

Seconds


+135%

Physical Damage


+135%

Pierce Damage


+135%

Internal Trauma Damage


+12%

Offensive Ability


+12%

Movement Speed

Blitz

---

01/16
Requires a melee weapon. When used with a shield, the shield's damage is used.


30

Energy Cost


3.8

Second Skill Recharge


180

Degree Attack Arc


3

Target Maximum


125%

Weapon Damage


90

Physical Damage
Knockdown target for

1.5-3

Seconds


+300%

Movement Speed

---

16/16

77

Energy Cost


325%

Weapon Damage


406

Physical Damage

Blindside

---

01/12

+3

Energy Cost


+120

Degree Attack Arc


+5

Target Maximum


60

Internal Trauma over

2

Seconds


+32%

Physical Damage


+32%

Internal Trauma Damage


15

Reduced Target's Defensive Ability for

4

Seconds

---

12/12

+8

Energy Cost


198

Internal Trauma over

2

Seconds


+208%

Physical Damage


+208%

Internal Trauma Damage


180

Reduced Target's Defensive Ability for

4

Seconds

Counter Strike

---

01/16
This ability must be toggled to maintain its effect.


20%

Chance of Activating


0.8

Active Energy Cost per Second


25

Energy Reserved


1

Second Skill Recharge


4

Meter Target Area


5%

Weapon Damage


8%

of Retaliation Damage added to Attack


70

Physical Damage


33

Bleeding Damage over

3

Seconds


35

Physical Damage Retaliation


+20%

to All Retaliation Damage

---

16/16

30%

Chance of Activating


1.5

Active Energy Cost per Second


100

Energy Reserved


15%

Weapon Damage


16%

of Retaliation Damage added to Attack


359

Physical Damage


738

Bleeding Damage over

3

Seconds


350

Physical Damage Retaliation


+110%

to All Retaliation Damage

Fighting Form

---

01/12

+1

Energy Cost


+160

Degree Attack Arc


+2

Target Maximum


33%

Chance to pass through Enemies


50

Bleeding Damage over

2

Seconds


+12%

Physical Damage


+12%

Pierce Damage

---

12/12

+2

Energy Cost


+3

Target Maximum


100%

Chance to pass through Enemies


424

Bleeding Damage over

2

Seconds


+112%

Physical Damage


+112%

Pierce Damage

Deadly Momentum

---

01/12
Deadly Momentum affects all attacks while active.


4

Second Duration


10-18

Physical Damage


16

Internal Trauma over

2

Seconds


+8%

Physical Damage


+8%

Pierce Damage


+12%

Internal Trauma Damage


+12%

Bleeding Damage

---

12/12

4

Second Duration


67-106

Physical Damage


84

Internal Trauma over

2

Seconds


+65%

Physical Damage


+65%

Pierce Damage


+74%

Internal Trauma Damage


+74%

Bleeding Damage

Overguard

---

01/12
Requires a shield.


25

Energy Cost


20

Second Skill Recharge


10

Second Duration


6

Damage Absorption
Increases Health Regeneration by

25%




-15%

Shield Recovery Time


+15%

Shield Damage Blocked


26%

Reduced Stun Duration


5%

Chance of

1.5

Seconds of Stun Retaliation

---

12/12

50

Energy Cost


90

Damage Absorption
Increases Health Regeneration by

135%




-35%

Shield Recovery Time


+150%

Shield Damage Blocked


50%

Reduced Stun Duration


50%

Chance of

1.5

Seconds of Stun Retaliation

Menhir's Bulwark

---

01/12
Requires a shield. This ability must be toggled to maintain its effect.
Exclusive Skill - Only one Exclusive Skill can be active at any one time.


2%

Damage Absorption


8

Physical Damage


+5%

Stun Duration


+8

Health Regenerated per Second
Healing Effects Increased by

+3%




15%

Resistance to Life Reduction


+25%

to All Retaliation Damage

---

12/12

12%

Damage Absorption


35

Physical Damage


+40%

Stun Duration


+65

Health Regenerated per Second
Healing Effects Increased by

+15%




33%

Resistance to Life Reduction


+135%

to All Retaliation Damage

1
5
10
15
20
25
32
40
50
| | |
| --- | --- |
| | Intense physical conditioning necessary to brave the harsh reality of Cairn. |
Each point invested in the Soldier skill mastery gives the following stat bonuses:
+5 Physique
+3.5 Cunning
+1.5 Spirit
+28 Health
+10 Energy
Combining the Soldier with another Mastery forms the following hybrid classes:
Constellations
Tier 1


Anvil • Empty Throne • Falcon • Hammer • Harpy • Owl • Shepherd's Crook • Toad • Wolverine


Fiend • Ghoul • Jackal • Rat • Viper • Vulture • Wretch


Akeron's Scorpion • Bat • Eye of the Guardian • Fox • Hawk • Quill • Raven • Scholar's Light • Spider

Assassin's Blade • Crane • Dryad • Lion • Panther • Stag • Tortoise
Bull • Eel • Gallows • Hound • Imp • Lizard • Sailor's Guide • Tsunami • Wraith
Tier 2
Affliction • Alladrah's Phoenix • Amatok the Spirit of Winter • Assassin • Autumn Boar • Bard's Harp • Behemoth • Berserker • Blades of Nadaan • Bysmiel's Bonds • Chariot of the Dead • Crab • Dire Bear • Harvestman's Scythe • Huntress • Hydra • Kraken • Magi • Manticore • Messenger of War • Murmur, Mistress of Rumors • Oklaine's Lantern • Revenant • Rhowan's Crown • Rhowan's Scepter • Scales of Ulcama • Shieldmaiden • Solael's Witchblade • Solemn Watcher • Staff of Rattosh • Targo the Builder • Tempest • Typhos, the Jailor of Souls • Ulo the Keeper of the Waters • Wendigo • Widow
Tier 3
Abomination • Aeon's Hourglass • Attak Seru, the Mirage • Blind Sage • Crossroads • Devotion • Dying God • Ishtak, the Spring Maiden • Leviathan • Light of Empyrion • Mogdrogen the Wolf • Obelisk of Menhir • Oleron • Rattosh, the Veilwarden • Spear of the Heavens • Tree of Life • Ulzuin's Torch • Ultos, Shepherd of Storms • Unknown Soldier • Vire, the Stone Matron