As part of the Unified Community Platform project, this wiki and 38 others will be migrated to the new platform in the next few weeks. Minimal changes are expected as part of this migration. Read more here.
Shaman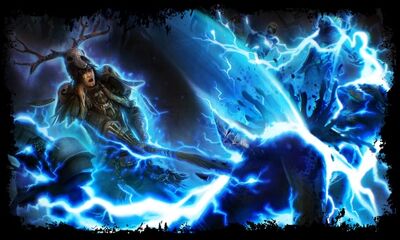 Shamans are untamed fighters capable of brutal strength and ferocity that would make most men take a step back and reconsider their chances; but that wild side is equally matched by their connection to the skies and the power of lightning storms. Shamans expertly combine the use of two-handed melee weapons with storm powers. Backed by their patron deity, Mogdrogen the Beast God, they fearlessly charge into battle with lightning surging through their fierce weapons, the scorched earth and corpses still reeling from the electricity coursing through them the only sign of their passing.
Hailing from the untamed northlands, Shamans were the spiritual leaders and guardians of their people. Claiming an astounding attunement to the wilds and their patron deity Mogdrogen, Shamans are capable of wielding the terrible forces of nature against their foes or even calling upon savage beasts to come to their aid. Shamans excel in the use of brutal two-handed melee weapons, but can easily adapt to other tools of war when conjuring their primal powers.
Brute Force

---

01/12
This is a two-handed melee and two-handed ranged weapon bonus.


8

Lightning Damage


+6%

Physical Damage


+6%

Internal Trauma Damage with

+5%

Increased Duration


+50

Health

---

12/12

71

Lightning Damage


+72%

Physical Damage


+72%

Internal Trauma Damage with

+33%

Increased Duration


+700

Health

Feral Hunger

---

01/10
Requires a two-handed melee or two-handed ranged weapon. Activates off default weapon attacks.


8%

Chance to be Used


180

Degree Attack Arc


5

Target Maximum


110%

Weapon Damage


28

Bleeding Damage over

2

Seconds


10%

of Attack Damage converted to Health

---

10/10

25%

Chance to be Used


160%

Weapon Damage


204

Bleeding Damage over

2

Seconds


33%

of Attack Damage converted to Health

Wendigo Totem

---

01/12

30 Energy Cost
5 Second Skill Recharge

Wendigo Totem Attributes:
Lives for 12 Seconds

Wendigo Totem Abilities:
Mend Wounds

0.5

Second Skill Recharge

5

Meter Radius

2% + 60

Health Restored

Life Tap

5

Meter Radius

16

Vitality Damage

10

Vitality Decay over

2

Seconds

---

12/12

63 Energy Cost
5 Second Skill Recharge

Wendigo Totem Attributes:
Lives for 12 Seconds

Wendigo Totem Abilities:
Mend Wounds

0.5

Second Skill Recharge

5

Meter Radius

5% + 500

Health Restored

Life Tap

5

Meter Radius

126

Vitality Damage

120

Vitality Decay over

2

Seconds

Blood Pact

---

01/12

5

Meter Radius


7

Vitality Damage


+16%

Vitality Damage


+16%

Bleeding Damage with

6%

Increased Duration


+16%

Vitality Decay with

6%

Increased Duration


4%

of Attack Damage converted to Health

---

12/12

40

Vitality Damage


+104%

Vitality Damage


+104%

Bleeding Damage with

50%

Increased Duration


+104%

Vitality Decay with

50%

Increased Duration


8%

of Attack Damage converted to Health

Primal Strike

---

01/16
Requires a two-handed melee or two-handed ranged weapon.


22

Energy Cost


3

Second Skill Recharge


2.5

Meter Target Area


110%

Weapon Damage


18

Physical Damage


7 - 22

Lightning Damage


10

Bleeding Damage over

2

Seconds
Stun target for

1 - 2

Seconds

---

16/16

80

Energy Cost


260%

Weapon Damage


240

Physical Damage


136 - 250

Lightning Damage


310

Bleeding Damage over

2

Seconds
Stun target for

2.6 - 4

Seconds

Storm Surge

---

01/12

3

Energy Cost


11-16

Lightning Damage


78

Electrocute Damage over

3

Seconds


+8%

Physical Damage


+8%

Bleeding Damage with

+30%

Increased Duration

---

12/12

8

Energy Cost


66-116

Lightning Damage


804

Electrocute Damage over

3

Seconds


+96%

Physical Damage


+96%

Bleeding Damage with

+100%

Increased Duration

Storm Totem

---

01/16

45 Energy Cost
4.5 Second Skill recharge
3 Summon Limit

Storm Totem Attributes:
Lives for 14 Seconds

Storm Totem Abilities:
Storm Strike

Affects up to

3

Targets

35-73

Lightning Damage

32

Electrocute Damage over

2

Seconds

---

16/16

105 Energy Cost
4.5 Second Skill recharge
3 Summon Limit

Storm Totem Attributes:
Lives for 14 Seconds

Storm Totem Abilities:
Storm Strike

Affects up to

6

Targets

114-237

Lightning Damage

220

Electrocute Damage over

2

Seconds

Stormcaller's Pact

---

01/12
This ability must be toggled to maintain its effect.


24-39

Electrocute Damage over

3

Seconds


+8%

Crit Damage


+25%

Cold Damage


33%

Chance of

75%

Lightning Damage


+25%

Frostburn Damage


+25%

Electrocute Damage


15%

Physical Damage converted to Lightning Damage


5%

Reduced Stun Duration

---

12/12

90-156

Electrocute Damage over

3

Seconds


+35%

Crit Damage


+135%

Cold Damage


33%

Chance of

405%

Lightning Damage


+135%

Frostburn Damage


+135%

Electrocute Damage


30%

Reduced Stun Duration

Savagery

---

01/16

1

Energy Cost


6

Charge Levels:

30%, 50%, 65%, 80% 90%, 100%




100%

Weapon Damage


6

Lightning Damage


12

Bleeding Damage over

3

Seconds


+8%

Lightning Damage


+8%

Bleeding Damage

---

16/16

7

Energy Cost


8

Charge Levels:

30%, 50%, 65%, 80% 90%, 100%, 108%, 115%




150%

Weapon Damage


46

Lightning Damage


147

Bleeding Damage over

3

Seconds


+90%

Lightning Damage


+90%

Bleeding Damage

Wind Devil

---

01/16

60 Energy Cost
4.5 Second Skill Recharge
1 Meter Radius
3 Summon Limit

Wind Devil Attributes:
Lives for 14 Seconds

Wind Devil Abilities:
Howling Wind

3.3

Meter Radius

8

Physical Damage

18-28

Electrocute Damage over

2

Seconds

15%

Chance of Impaired Aim to target for

3

Seconds

---

16/16

150 Energy Cost

Wind Devil Attributes:
Lives for 14 Seconds

Wind Devil Abilities:
Howling Wind

130

Physical Damage

330-402

Electrocute Damage over

2

Seconds

50%

Chance of Impaired Aim to target for

3

Seconds

Devouring Swarm

---

01/16

12

Energy Cost


3

Second Duration


100%

Chance to pass through Enemies


2.5

Meter Radius


3

Vitality Damage


3

Bleeding Damage per Second


20%

of Attack Damage converted to Health


-10%

Vitality Resistance


-5%

Bleeding Resistance

---

16/16

60

Energy Cost


5

Second Duration


65

Vitality Damage


50

Bleeding Damage per Second


28%

of Attack Damage converted to Health


-60%

Vitality Resistance


-40%

Bleeding Resistance

Grasping Vines

---

01/12

25

Energy Cost


1.2

Second Skill Recharge


4

Second Duration


4

Meter Radius


4

Physical Damage


4

Bleeding Damage per Second


35%

Slower target Movement for

2

Seconds

---

12/12

80

Energy Cost


7.5

Meter Radius


71

Physical Damage


71

Bleeding Damage per Second


75%

Slower target Movement for

2

Seconds

Entangling Vines

---

01/12

+4

Energy Cost


4%

of Retaliation Damage added to Attack


20

Vitality Decay Damage over

2

Seconds


+10%

Physical Damage


+10%

Bleeding Damage


10%

Chance to Immobilize target for

1.5

Seconds


5%

Slower Enemy Attack for

2

Seconds

---

12/12

+26

Energy Cost


8%

of Retaliation Damage added to Attack


174

Vitality Decay Damage over

2

Seconds


+100%

Physical Damage


+100%

Bleeding Damage


30%

Chance to Immobilize target for

1.5

Seconds


35%

Slower Enemy Attack for

2

Seconds

Conjure Primal Spirit

---

01/12

200 Energy Cost
40 Second Skill Recharge

Primal Spirit Attributes:
Lives for 20 Seconds
x Health
x Energy

Primal Spirit Abilities:
+0% to All Damage
+0% Crit Damage
+0% Health
Claw and Fang Attacks

76-85

Physical Damage

54

Bleeding Damage over

3

Seconds

Tail Strike

100%

Basic Pet Attack Damage

76-85

Piercing Damage

256

Poison Damage over

8

Seconds
Stun target for

3

Seconds

---

12/12

310 Energy Cost
40 Second Skill Recharge

Primal Spirit Attributes:
Lives for 20 Seconds
x Health
x Energy

Primal Spirit Abilities:
+100% to All Damage
+33% Crit Damage
+80% Health
Claw and Fang Attacks

308-328

Physical Damage

252

Bleeding Damage over

3

Seconds

Tail Strike

308-328

Piercing Damage

1136

Poison Damage over

8

Seconds

Summon Briarthorn

---

01/16

150 Energy Cost
18 Second Skill Recharge

Briarthorn Attributes:
x Health
x Energy

Briarthorn Abilities:
+0% to All Damage
+0% Crit Damage
+0% Health
Increases Energy Regeneration by 0%
Thorned Claws

13-20

Physical Damage

24

Bleeding Damage over

3

Seconds

40

Physical Retaliation

---

16/16

225 Energy Cost
18 Second Skill Recharge

Briarthorn Attributes:
x Health
x Energy

Briarthorn Abilities:
+100% to All Damage
+33% Crit Damage
+75% Health
Increases Energy Regeneration by 150%
Thorned Claws

162-209

Physical Damage

369

Bleeding Damage over

3

Seconds

445

Physical Retaliation

Ground Slam

---

01/12

+20

Energy Cost


+8

Projectiles


100%

Chance to pass through Enemies


45%

Pet Basic Attack Damage


72-118

Physical Damage


78

Bleeding Damage

3

Seconds
Generate Additional Threat
Stun target for

1.8

Seconds

---

12/12

+42

Energy Cost


80%

Pet Basic Attack Damage


296-478

Physical Damage


615

Bleeding Damage over

3

Seconds
Stun target for

4

Seconds

Primal Bond

---

01/12
This ability must be toggled to maintain its effect.

2% Damage Absorption
30 Bleeding Damage over 3 Seconds
+25% Physical Damage
+25% Internal Trauma Damage
+25% Bleeding Damage with +6% Increased Duration
5% Less Damage from Beasts

Bonus to All Pets
18 Bleeding Damage over 3 Seconds
+8% to All Damage
+8% Crit Damage

---

12/12

15% Damage Absorption
129 Bleeding Damage over 3 Seconds
+135% Physical Damage
+135% Internal Trauma Damage
+135% Bleeding Damage with +50% Increased Duration
18% Less Damage from Beasts

Bonus to All Pets
84 Bleeding Damage over 3 Seconds
+74% to All Damage
+33% Crit Damage

Mogdrogen's Pact

---

01/12
This ability must be toggled to maintain its effect


+50 Energy Reserved
12 Meter Radius
3-6 Physical Damage
+3 Health Regenerated per Second
+0.8 Energy Regenerated per Second

Bonus to All Pets
+4% Physical Damage

---

12/12

+160 Energy Reserved
22-30 Physical Damage
+50 Health Regenerated per Second
+6.5 Energy Regenerated per Second

Bonus to All Pets
+70% Physical Damage

1
5
10
15
20
25
32
40
50
| | |
| --- | --- |
| | Attunement to the primal call of the wilds. |
Each point invested in the Shaman skill mastery gives the following stat bonuses:
+4 Physique
+3 Cunning
+3 Spirit
+26 Health
+12 Energy
Combining the Shaman with another Mastery forms the following hybrid classes:
Constellations
Tier 1


Anvil • Empty Throne • Falcon • Hammer • Harpy • Owl • Shepherd's Crook • Toad • Wolverine


Fiend • Ghoul • Jackal • Rat • Viper • Vulture • Wretch


Akeron's Scorpion • Bat • Eye of the Guardian • Fox • Hawk • Quill • Raven • Scholar's Light • Spider

Assassin's Blade • Crane • Dryad • Lion • Panther • Stag • Tortoise
Bull • Eel • Gallows • Hound • Imp • Lizard • Sailor's Guide • Tsunami • Wraith
Tier 2
Affliction • Alladrah's Phoenix • Amatok the Spirit of Winter • Assassin • Autumn Boar • Bard's Harp • Behemoth • Berserker • Blades of Nadaan • Bysmiel's Bonds • Chariot of the Dead • Crab • Dire Bear • Harvestman's Scythe • Huntress • Hydra • Kraken • Magi • Manticore • Messenger of War • Murmur, Mistress of Rumors • Oklaine's Lantern • Revenant • Rhowan's Crown • Rhowan's Scepter • Scales of Ulcama • Shieldmaiden • Solael's Witchblade • Solemn Watcher • Staff of Rattosh • Targo the Builder • Tempest • Typhos, the Jailor of Souls • Ulo the Keeper of the Waters • Wendigo • Widow
Tier 3
Abomination • Aeon's Hourglass • Attak Seru, the Mirage • Blind Sage • Crossroads • Devotion • Dying God • Ishtak, the Spring Maiden • Leviathan • Light of Empyrion • Mogdrogen the Wolf • Obelisk of Menhir • Oleron • Rattosh, the Veilwarden • Spear of the Heavens • Tree of Life • Ulzuin's Torch • Ultos, Shepherd of Storms • Unknown Soldier • Vire, the Stone Matron