In the next few weeks, your wiki will be migrated to a Fandom.com domain. Learn more here.
Revenant
Revenant

The revenant represents death and misery. It is said that none can escape its deathly gaze, not even the gods themselves.
Affinity Required:

  8

Affinity Bonus:

  1
  1
Revenant is a tier two Constellation, located in the top left part of the devotion window.
Updated to: v1.0.0.9
1

10%

Chance of

40

Energy Leech over

2

Seconds


+15%

Energy Absorbed from Enemy Spells
2

10%

Less Damage from Undead


+3%

Health
3

24% Vitality Resistance

Bonus to All Pets
15% Vitality Resistance

4

6%

of Attack Damage converter to Health


+175

Health
5

+15% Damage to Undead
+6% Attack Speed
+6% Casting Speed

Bonus to All Pets
5% of Attack Damage converted to Health

6
Raise the Dead (100% Chance on Enemy Death)
Raise the Dead (100% Chance on Enemy Death)
Raise the dead to serve you. The necrotic energies required for this ritual are very unstable however, and the undead minions will only exist for a limited time.
The Dead scale with Player Bonuses.
Level
Stats
XP Required
1/15

3 Second Skill Recharge
3 Summon Limit

Skeleton Attributes:
Lives for 10 Seconds
x Health
x Energy

Skeleton Abilities:
Melee Attack

20-27

Vitality Damage

20-27

Aether Damage

25%

Slower target Movement for

3

Seconds

0
2/15

3 Second Skill Recharge
3 Summon Limit

Skeleton Attributes:
Lives for 12 Seconds
x Health
x Energy

Skeleton Abilities:
+9% to All Damage
+6% Health
+6% Energy
Increases Energy Regeneration by 12%
Melee Attack

24-31

Vitality Damage

24-31

Aether Damage

26%

Slower target Movement for

3

Seconds

75000
3/15

3 Second Skill Recharge
3 Summon Limit

Skeleton Attributes:
Lives for 14 Seconds
x Health
x Energy

Skeleton Abilities:
+18% to All Damage
+12% Health
+12% Energy
Increases Energy Regeneration by 24%
Melee Attack

28-35

Vitality Damage

28-35

Aether Damage

27%

Slower target Movement for

3

Seconds

164154
4/15

3 Second Skill Recharge
3 Summon Limit

Skeleton Attributes:
Lives for 16 Seconds
x Health
x Energy

Skeleton Abilities:
+27% to All Damage
+18% Health
+18% Energy
Increases Energy Regeneration by 36%
Melee Attack

32-39

Vitality Damage

32-39

Aether Damage

28%

Slower target Movement for

3

Seconds

276228
5/15

3 Second Skill Recharge
4 Summon Limit

Skeleton Attributes:
Lives for 18 Seconds
x Health
x Energy

Skeleton Abilities:
+36% to All Damage
+24% Health
+24% Energy
Increases Energy Regeneration by 48%
Melee Attack

36-43

Vitality Damage

36-43

Aether Damage

29%

Slower target Movement for

3

Seconds

422138
6/15

3 Second Skill Recharge
4 Summon Limit

Skeleton Attributes:
Lives for 20 Seconds
x Health
x Energy

Skeleton Abilities:
+45% to All Damage
+30% Health
+30% Energy
Increases Energy Regeneration by 60%
Melee Attack

40-47

Vitality Damage

40-47

Aether Damage

30%

Slower target Movement for

3

Seconds

615122
7/15

3 Second Skill Recharge
4 Summon Limit

Skeleton Attributes:
Lives for 22 Seconds
x Health
x Energy

Skeleton Abilities:
+54% to All Damage
+36% Health
+36% Energy
Increases Energy Regeneration by 72%
Melee Attack

44-51

Vitality Damage

44-51

Aether Damage

31%

Slower target Movement for

3

Seconds

870884
8/15

3 Second Skill Recharge
4 Summon Limit

Skeleton Attributes:
Lives for 24 Seconds
x Health
x Energy

Skeleton Abilities:
+63% to All Damage
+42% Health
+42% Energy
Increases Energy Regeneration by 84%
Melee Attack

48-55

Vitality Damage

48-55

Aether Damage

32%

Slower target Movement for

3

Seconds

1207721
9/15

3 Second Skill Recharge
4 Summon Limit

Skeleton Attributes:
Lives for 26 Seconds
x Health
x Energy

Skeleton Abilities:
+72% to All Damage
+48% Health
+48% Energy
Increases Energy Regeneration by 97%
Melee Attack

52-59

Vitality Damage

52-59

Aether Damage

33%

Slower target Movement for

3

Seconds

1646637
10/15

3 Second Skill Recharge
5 Summon Limit

Skeleton Attributes:
Lives for 28 Seconds
x Health
x Energy

Skeleton Abilities:
+81% to All Damage
+55% Health
+55% Energy
Increases Energy Regeneration by 110%
Melee Attack

56-63

Vitality Damage

56-63

Aether Damage

34%

Slower target Movement for

3

Seconds

2211449
11/15

3 Second Skill Recharge
5 Summon Limit

Skeleton Attributes:
Lives for 30 Seconds
x Health
x Energy

Skeleton Abilities:
+90% to All Damage
+62% Health
62% Energy
Increases Energy Regeneration by 123%
Melee Attack

60-67

Vitality Damage

60-67

Aether Damage

35%

Slower target Movement for

3

Seconds

2928881
12/15

3 Second Skill Recharge
5 Summon Limit

Skeleton Attributes:
Lives for 32 Seconds
x Health
x Energy

Skeleton Abilities:
+100% to All Damage
+69% Health
+69% Energy
Increases Energy Regeneration by 136%
Melee Attack

64-71

Vitality Damage

64-71

Aether Damage

36%

Slower target Movement for

3

Seconds

3828651
13/15

3 Second Skill Recharge
5 Summon Limit

Skeleton Attributes:
Lives for 34 Seconds
x Health
x Energy

Skeleton Abilities:
+110% to All Damage
+76% Health
+76% Energy
Increases Energy Regeneration by 149%
Melee Attack

68-75

Vitality Damage

68-75

Aether Damage

37%

Slower target Movement for

3

Seconds

4943558
14/15

3 Second Skill Recharge
5 Summon Limit

Skeleton Attributes:
Lives for 36 Seconds
x Health
x Energy

Skeleton Abilities:
+120% to All Damage
+83% Health
+83% Energy
Increases Energy Regeneration by 162%
Melee Attack

72-79

Vitality Damage

72-79

Aether Damage

38%

Slower target Movement for

3

Seconds

6309558
15/15

3 Second Skill Recharge
5 Summon Limit

Skeleton Attributes:
Lives for 40 Seconds
x Health
x Energy

Skeleton Abilities:
+130% to All Damage
+90% Health
+90% Energy
Increases Energy Regeneration by 175%
Melee Attack

79-89

Vitality Damage

79-89

Aether Damage

40%

Slower target Movement for

3

Seconds

7965836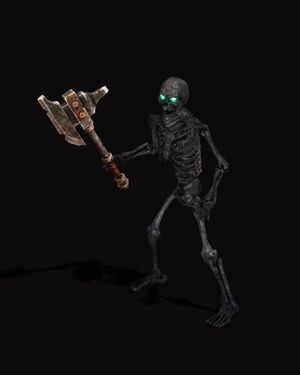 In additon to their basic attacks, the Skeletons also possess a Charge skill:
+50% Movement Speed
x Aether Damage
x Vitality Damage
+x% To All Damage
charLevel = playerlevel*1
| | |
| --- | --- |
| Physique | (charLevel*5.5)+25 |
| Cunning | (charLevel*6)+40 |
| Spirit | (charLevel*5)+20 |
| Health | ((charLevel*9)^1.29)+15 |
| Energy | ((charLevel*5)^1.2)+60 |
| Offensive Ability | (charLevel*6)+45 |
| Defensive Ability | (charLevel*3)+25 |
| | |
| --- | --- |
| Physical | 85 |
| Pierce | 85 |
| Cold | 85 |
| Fire | 85 |
| Lightning | 85 |
| Aether | 85 |
| Chaos | 85 |
| Poison | 85 |
| Vitality | 85 |
| Freeze | 0 |
| Knockdown | 0 |
| Petrify | 0 |
| Sleep | 0 |
| Stun | 0 |
| Trap | 0 |
Constellations
Tier 1

Anvil • Empty Throne • Falcon • Hammer • Harpy • Owl • Shepherd's Crook • Toad • Wolverine

Fiend • Ghoul • Jackal • Rat • Viper • Vulture • Wretch

Akeron's Scorpion • Bat • Eye of the Guardian • Fox • Hawk • Quill • Raven • Scholar's Light • Spider

Assassin's Blade • Crane • Dryad • Lion • Panther • Stag • Tortoise

Bull • Eel • Gallows • Hound • Imp • Lizard • Sailor's Guide • Tsunami • Wraith
Tier 2
Affliction • Alladrah's Phoenix • Amatok the Spirit of Winter • Assassin • Autumn Boar • Bard's Harp • Behemoth • Berserker • Blades of Nadaan • Bysmiel's Bonds • Chariot of the Dead • Crab • Dire Bear • Harvestman's Scythe • Huntress • Hydra • Kraken • Magi • Manticore • Messenger of War • Murmur, Mistress of Rumors • Oklaine's Lantern • Revenant • Rhowan's Crown • Rhowan's Scepter • Scales of Ulcama • Shieldmaiden • Solael's Witchblade • Solemn Watcher • Staff of Rattosh • Targo the Builder • Tempest • Typhos, the Jailor of Souls • Ulo the Keeper of the Waters • Wendigo • Widow
Tier 3
Abomination • Aeon's Hourglass • Attak Seru, the Mirage • Blind Sage • Crossroads • Devotion • Dying God • Ishtak, the Spring Maiden • Leviathan • Light of Empyrion • Mogdrogen the Wolf • Obelisk of Menhir • Oleron • Rattosh, the Veilwarden • Spear of the Heavens • Tree of Life • Ulzuin's Torch • Ultos, Shepherd of Storms • Unknown Soldier • Vire, the Stone Matron