As part of the Unified Community Platform project, this wiki and 38 others will be migrated to the new platform in the next few weeks. Minimal changes are expected as part of this migration. Read more here.
Reap Spirit (Skill)
 

Reap Spirit

Mastery:
Necromancer
Tier:
9
Skill Type:
Active
Max. Level:
16
Cooldown:
N/A
Associated Skills:
One of the most powerful techniques bestowed upon his followers by Uroboruuk. By ripping apart the very being of your foe, one can not only inflict grievous harm, but also conjure for a fragment of their soul to serve you. The resulting spirit is unstable and highly aggressive, which makes it all the more useful in battle.
The Wraith scales with Pet Bonuses.
Apart from a basic melee attack, the Wraith uses two additional, unlisted skills:
Shadow Strike (Cold/Vitality Damage)
Vitality Nova (Vitality Damage, AoE)
Updated to: v1.1.5.1
Base Levels
Level
Stats
1/16

90 Energy Cost
3.5 Second Skill Recharge
100% Weapon Damage
100-154 Aether Damage
Vitality Decay over 5 Seconds
1 Summon Limit

Sundered Wraith Attributes:
Lives for 18 Seconds
x Health
x Energy

Sundered Wraith Abilities:
Wraith's Touch

44

Cold Damage

37-50

Vitality Damage

2/16

96 Energy Cost
110% Weapon Damage
123-184 Aether Damage
555 Vitality Decay over 5 Seconds
1 Summon Limit

Sundered Wraith Attributes:
x Health
x Energy

Sundered Wraith Abilities:
+8% to All Damage
+5% Crit Damage
+5% Health
Increases Energy Regeneration by 10%
Wraith's Touch

56

Cold Damage

46-64

Vitality Damage

3/16

102 Energy Cost
120% Weapon Damage
146-214 Aether Damage
700 Vitality Decay over 5 Seconds
1 Summon Limit

Sundered Wraith Attributes:
x Health
x Energy

Sundered Wraith Abilities:
+14% to All Damage
+7% Crit Damage
+10% Health
Increases Energy Regeneration by 20%
Wraith's Touch

68

Cold Damage

55-78

Vitality Damage

4/16

108 Energy Cost
130% Weapon Damage
169-244 Aether Damage
875 Vitality Decay over 5 Seconds
1 Summon Limit

Sundered Wraith Attributes:
x Health
x Energy

Sundered Wraith Abilities:
+22% to All Damage
+9% Crit Damage
+15% Health
Increases Energy Regeneration by 30%
Wraith's Touch

80

Cold Damage

64-92

Vitality Damage

5/16

114 Energy Cost
140% Weapon Damage
192-274 Aether Damage
1050 Vitality Decay over 5 Seconds
1 Summon Limit

Sundered Wraith Attributes:
x Health
x Energy

Sundered Wraith Abilities:
+28% to All Damage
+11% Crit Damage
+20% Health
Increases Energy Regeneration by 40%
Wraith's Touch

92

Cold Damage

73-106

Vitality Damage

6/16

120 Energy Cost
150% Weapon Damage
215-304 Aether Damage
1225 Vitality Decay over 5 Seconds
1 Summon Limit

Sundered Wraith Attributes:
x Health
x Energy

Sundered Wraith Abilities:
+35% to All Damage
+13% Crit Damage
+25% Health
Increases Energy Regeneration by 50%
Wraith's Touch

104

Cold Damage

82-120

Vitality Damage

7/16

126 Energy Cost
160% Weapon Damage
238-334 Aether Damage
1405 Vitality Decay over 5 Seconds
1 Summon Limit

Sundered Wraith Attributes:
x Health
x Energy

Sundered Wraith Abilities:
+41% to All Damage
+15% Crit Damage
+30% Health
Increases Energy Regeneration by 60%
Wraith's Touch

116

Cold Damage

91-134

Vitality Damage

8/16

132 Energy Cost
170% Weapon Damage
261-354 Aether Damage
1585 Vitality Decay over 5 Seconds
1 Summon Limit

Sundered Wraith Attributes:
x Health
x Energy

Sundered Wraith Abilities:
+48% to All Damage
+17% Crit Damage
+35% Health
Increases Energy Regeneration by 70%
Wraith's Touch

128

Cold Damage

100-148

Vitality Damage

9/16

138 Energy Cost
180% Weapon Damage
284-394 Aether Damage
1765 Vitality Decay over 5 Seconds
1 Summon Limit

Sundered Wraith Attributes:
x Health
x Energy

Sundered Wraith Abilities:
+54% to All Damage
+19% Crit Damage
+40% Health
Increases Energy Regeneration by 80%
Wraith's Touch

140

Cold Damage

109-162

Vitality Damage

10/16

144 Energy Cost
190% Weapon Damage
307-424 Aether Damage
1945 Vitality Decay over 5 Seconds
1 Summon Limit

Sundered Wraith Attributes:
x Health
x Energy

Sundered Wraith Abilities:
+61% to All Damage
+21% Crit Damage
+45% Health
Increases Energy Regeneration by 90%
Wraith's Touch

152

Cold Damage

118-176

Vitality Damage

11/16

150 Energy Cost
200% Weapon Damage
330-454 Aether Damage
2125 Vitality Decay over 5 Seconds
1 Summon Limit

Sundered Wraith Attributes:
x Health
x Energy

Sundered Wraith Abilities:
+67% to All Damage
+23% Crit Damage
+50% Health
Increases Energy Regeneration by 100%
Wraith's Touch

164

Cold Damage

127-190

Vitality Damage

12/16

156 Energy Cost
210% Weapon Damage
353-484 Aether Damage
2305 Vitality Decay over 5 Seconds
1 Summon Limit

Sundered Wraith Attributes:
x Health
x Energy

Sundered Wraith Abilities:
+74% to All Damage
+25% Crit Damage
+55% Health
Increases Energy Regeneration by 110%
Wraith's Touch

176

Cold Damage

136-204

Vitality Damage

13/16

162 Energy Cost
220% Weapon Damage
376-514 Aether Damage
2485 Vitality Decay over 5 Seconds
1 Summon Limit

Sundered Wraith Attributes:
x Health
x Energy

Sundered Wraith Abilities:
+80% to All Damage
+27% Crit Damage
+60% Health
Increases Energy Regeneration by 120%
Wraith's Touch

188

Cold Damage

145-218

Vitality Damage

14/16

168 Energy Cost
230% Weapon Damage
399-544 Aether Damage
2665 Vitality Decay over 5 Seconds
1 Summon Limit

Sundered Wraith Attributes:
x Health
x Energy

Sundered Wraith Abilities:
+87% to All Damage
+29% Crit Damage
+65% Health
Increases Energy Regeneration by 130%
Wraith's Touch

200

Cold Damage

154-232

Vitality Damage

15/16

174 Energy Cost
240% Weapon Damage
422-574 Aether Damage
2845 Vitality Decay over 5 Seconds
1 Summon Limit

Sundered Wraith Attributes:
x Health
x Energy

Sundered Wraith Abilities:
+93% to All Damage
+31% Crit Damage
+70% Health
Increases Energy Regeneration by 140%
Wraith's Touch

212

Cold Damage

163-246

Vitality Damage

16/16

180 Energy Cost
250% Weapon Damage
445-604 Aether Damage
3025 Vitality Decay over 5 Seconds
1 Summon Limit

Sundered Wraith Attributes:
x Health
x Energy

Sundered Wraith Abilities:
+100% to All Damage
+33% Crit Damage
+75% Health
Increases Energy Regeneration by 150%
Wraith's Touch

224

Cold Damage

172-260

Vitality Damage
Ultimate Levels
Level
Stats
17/16

186 Energy Cost
255% Weapon Damage
470-636 Aether Damage
3210 Vitality Decay over 5 Seconds
2 Summon Limit

Sundered Wraith Attributes:
x Health
x Energy

Sundered Wraith Abilities:
+106% to All Damage
+34% Crit Damage
+80% Health
Increases Energy Regeneration by 160%
Wraith's Touch

237

Cold Damage

182-275

Vitality Damage

18/16

192 Energy Cost
260% Weapon Damage
495-668 Aether Damage
3395 Vitality Decay over 5 Seconds
2 Summon Limit

Sundered Wraith Attributes:
x Health
x Energy

Sundered Wraith Abilities:
+113% to All Damage
+35% Crit Damage
+85% Health
Increases Energy Regeneration by 170%
Wraith's Touch

250

Cold Damage

192-290

Vitality Damage

19/16

198 Energy Cost
265% Weapon Damage
520-700 Aether Damage
3580 Vitality Decay over 5 Seconds
2 Summon Limit

Sundered Wraith Attributes:
x Health
x Energy

Sundered Wraith Abilities:
+119% to All Damage
+36% Crit Damage
+90% Health
Increases Energy Regeneration by 180%
Wraith's Touch

263

Cold Damage

202-305

Vitality Damage

20/16

204 Energy Cost
270% Weapon Damage
545-732 Aether Damage
3765 Vitality Decay over 5 Seconds
2 Summon Limit

Sundered Wraith Attributes:
x Health
x Energy

Sundered Wraith Abilities:
+126% to All Damage
+37% Crit Damage
+95% Health
Increases Energy Regeneration by 190%
Wraith's Touch

276

Cold Damage

212-320

Vitality Damage

21/16

210 Energy Cost
275% Weapon Damage
570-764 Aether Damage
3950 Vitality Decay over 5 Seconds
2 Summon Limit

Sundered Wraith Attributes:
x Health
x Energy

Sundered Wraith Abilities:
+132% to All Damage
+38% Crit Damage
+100% Health
Increases Energy Regeneration by 200%
Wraith's Touch

289

Cold Damage

222-335

Vitality Damage

22/16

216 Energy Cost
280% Weapon Damage
597-798 Aether Damage
4140 Vitality Decay over 5 Seconds
2 Summon Limit

Sundered Wraith Attributes:
x Health
x Energy

Sundered Wraith Abilities:
+139% to All Damage
+39% Crit Damage
+105% Health
Increases Energy Regeneration by 210%
Wraith's Touch

303

Cold Damage

233-351

Vitality Damage

23/16

216 Energy Cost
285% Weapon Damage
624-832 Aether Damage
4330 Vitality Decay over 5 Seconds
3 Summon Limit

Sundered Wraith Attributes:
x Health
x Energy

Sundered Wraith Abilities:
+145% to All Damage
+40% Crit Damage
+110% Health
Increases Energy Regeneration by 220%
Wraith's Touch

317

Cold Damage

244-367

Vitality Damage

24/16

216 Energy Cost
290% Weapon Damage
663-878 Aether Damage
4555 Vitality Decay over 5 Seconds
3 Summon Limit

Sundered Wraith Attributes:
x Health
x Energy

Sundered Wraith Abilities:
+152% to All Damage
+41% Crit Damage
+115% Health
Increases Energy Regeneration by 230%
Wraith's Touch

338

Cold Damage

262-390

Vitality Damage

25/16

216 Energy Cost
295% Weapon Damage
702-924 Aether Damage
4780 Vitality Decay over 5 Seconds
3 Summon Limit

Sundered Wraith Attributes:
x Health
x Energy

Sundered Wraith Abilities:
+158% to All Damage
+42% Crit Damage
+120% Health
Increases Energy Regeneration by 240%
Wraith's Touch

359

Cold Damage

280-413

Vitality Damage

26/16

216 Energy Cost
300% Weapon Damage
761-990 Aether Damage
5050 Vitality Decay over 5 Seconds
3 Summon Limit

Sundered Wraith Attributes:
x Health
x Energy

Sundered Wraith Abilities:
+165% to All Damage
+45% Crit Damage
+125% Health
Increases Energy Regeneration by 250%
Wraith's Touch

392

Cold Damage

310-448

Vitality Damage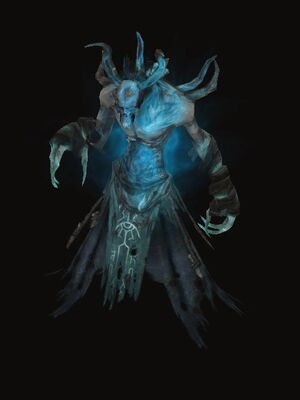 | | |
| --- | --- |
| Physique | (charLevel*6)+25 |
| Cunning | (charLevel*7.5)+40 |
| Spirit | (charLevel*7.5)+50 |
| Health | ((charLevel*10)^1.29)+35 |
| Energy | ((charLevel*5)^1.27)+60 |
| Offensive Ability | (charLevel*6.5)+50 |
| Defensive Ability | (charLevel*5)+20 |
| | |
| --- | --- |
| Aether | 100 |
| Chaos | 100 |
| Fire | 100 |
| Cold | 100 |
| Lightning | 100 |
| Vitality | 100 |
| Physical | 100 |
| Pierce | 100 |
| Poison | 100 |
| Freeze | 500 |
| Knockdown | 500 |
| Sleep | 500 |
| Stun | 500 |
| Petrify | 500 |
| Trap | 500 |
| Confuse | 500 |
| Convert | 500 |
| Fear | 500 |
| Reflection | 500 |
| Life Reduction | 500 |
Constellations
Tier 1


Anvil • Empty Throne • Falcon • Hammer • Harpy • Owl • Shepherd's Crook • Toad • Wolverine


Fiend • Ghoul • Jackal • Rat • Viper • Vulture • Wretch


Akeron's Scorpion • Bat • Eye of the Guardian • Fox • Hawk • Quill • Raven • Scholar's Light • Spider

Assassin's Blade • Crane • Dryad • Lion • Panther • Stag • Tortoise
Bull • Eel • Gallows • Hound • Imp • Lizard • Sailor's Guide • Tsunami • Wraith
Tier 2
Affliction • Alladrah's Phoenix • Amatok the Spirit of Winter • Assassin • Autumn Boar • Bard's Harp • Behemoth • Berserker • Blades of Nadaan • Bysmiel's Bonds • Chariot of the Dead • Crab • Dire Bear • Harvestman's Scythe • Huntress • Hydra • Kraken • Magi • Manticore • Messenger of War • Murmur, Mistress of Rumors • Oklaine's Lantern • Revenant • Rhowan's Crown • Rhowan's Scepter • Scales of Ulcama • Shieldmaiden • Solael's Witchblade • Solemn Watcher • Staff of Rattosh • Targo the Builder • Tempest • Typhos, the Jailor of Souls • Ulo the Keeper of the Waters • Wendigo • Widow
Tier 3
Abomination • Aeon's Hourglass • Attak Seru, the Mirage • Blind Sage • Crossroads • Devotion • Dying God • Ishtak, the Spring Maiden • Leviathan • Light of Empyrion • Mogdrogen the Wolf • Obelisk of Menhir • Oleron • Rattosh, the Veilwarden • Spear of the Heavens • Tree of Life • Ulzuin's Torch • Ultos, Shepherd of Storms • Unknown Soldier • Vire, the Stone Matron