Overlord Van Aldritch
Overlord Van Aldritch

Race:

Type:

Boss

Faction:
Overlord Van Aldritch is the final Boss creature for Port Valbury. He spawns together with Councilman Garl and Councilman Hallos.
The three pass around Aldritch's Scepter, indicated by an icon above their head. Whichever holds the scepter gains the Scepter Storm buff and the Aetherbolt Nova Skill.
Aditionally, On death, Overlord Van Aldritch confers another buff on remaining Councillors (see below).
After the fate of Port Valbury was sealed, the Aetherial known as Aldritch shed its human form and embraced the tainted nature of the Aether itself. Having turned the entire council of Valbury under its sway, it now rules over the fallen city with a strange relic known as the Scepter of Aldritch in hand.
40% Damage Absorption
+40/60% Total Damage
+20/50% Life Regeneration
8 Projectiles in a 360 Degree Radius
Aether Damage
Fire Damage
Burn Damage over 5 Seconds
30% Total Resistance Reduction for 5 seconds
1 second of Stun
1 Projectile
3 Meter Explosion Radius
5 Second Duration
Aether Damage
18 Meter Range
Aether Damage
Burn Damage over 5 Seconds
Reduced Defensive Ability for 5 Seconds
Casts on 20% Life
(12 to 16) Second Duration
90/60/40 Second Cooldown
0/25% Health Restored
70% Damage Absorption
+60% Total Damage
Fire Damage
Burn Damage over 5 Seconds
30% Total Resistance Reduction for 3 seconds
3.8 Meter Radius
6.5 Second Cooldown
Physical Damage
Fire Damage
Burn Damage over 5 Seconds
Stuns for (2-3.5) Seconds
16 Projectiles in a 360 Degree Radius
Physical Damage
Fire Damage
Burn Damage over 2 Seconds
50 Meter Radius
600 second Duration
+80% Total Damage
+15% Crit Damage
+35% Cast Speed
+5% Offensive Ability
+4% Defensive Ability
12% Damage Absorption
20% Skill Cooldown Reduction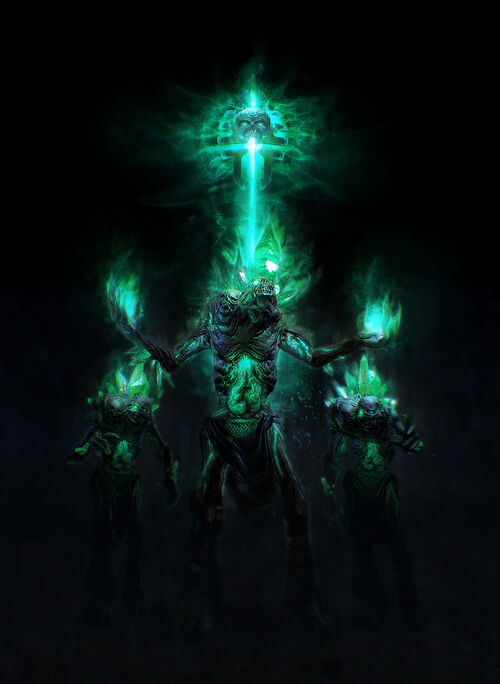 Constellations
Tier 1

Anvil • Empty Throne • Falcon • Hammer • Harpy • Owl • Shepherd's Crook • Toad • Wolverine

Fiend • Ghoul • Jackal • Rat • Viper • Vulture • Wretch

Akeron's Scorpion • Bat • Eye of the Guardian • Fox • Hawk • Quill • Raven • Scholar's Light • Spider

Assassin's Blade • Crane • Dryad • Lion • Panther • Stag • Tortoise

Bull • Eel • Gallows • Hound • Imp • Lizard • Sailor's Guide • Tsunami • Wraith
Tier 2
Affliction • Alladrah's Phoenix • Amatok the Spirit of Winter • Assassin • Autumn Boar • Bard's Harp • Behemoth • Berserker • Blades of Nadaan • Bysmiel's Bonds • Chariot of the Dead • Crab • Dire Bear • Harvestman's Scythe • Huntress • Hydra • Kraken • Magi • Manticore • Messenger of War • Murmur, Mistress of Rumors • Oklaine's Lantern • Revenant • Rhowan's Crown • Rhowan's Scepter • Scales of Ulcama • Shieldmaiden • Solael's Witchblade • Solemn Watcher • Staff of Rattosh • Targo the Builder • Tempest • Typhos, the Jailor of Souls • Ulo the Keeper of the Waters • Wendigo • Widow
Tier 3
Abomination • Aeon's Hourglass • Attak Seru, the Mirage • Blind Sage • Crossroads • Devotion • Dying God • Ishtak, the Spring Maiden • Leviathan • Light of Empyrion • Mogdrogen the Wolf • Obelisk of Menhir • Oleron • Rattosh, the Veilwarden • Spear of the Heavens • Tree of Life • Ulzuin's Torch • Ultos, Shepherd of Storms • Unknown Soldier • Vire, the Stone Matron