As part of the Unified Community Platform project, this wiki and 38 others will be migrated to the new platform in the next few weeks. Minimal changes are expected as part of this migration. Read more here.
Occultist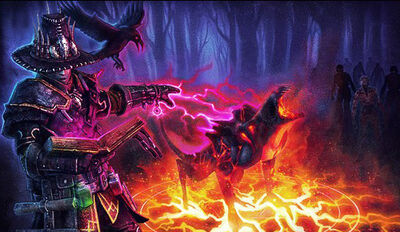 Occultists are masters of the eldritch powers, terrible and devastating. Occultists destroy their enemies with debilitating curses and forbidden magic. When that is not enough, they can summon powerful beings to aid them in battle. As with the Demolitionist, none of the Occultist skills are dependent on weapons, so you are not restricted to a ranged or melee build. Both are viable.
Once hunted by imperial forces in an effort to control eldritch power, the Occultist's craft focuses heavily on summoning and borrowed powers granted by the three witch "gods" Bysmiel, Solael and Dreeg. Their diverse arts include abhorrent curses and spells that inflict damage with poison, acid, and entropic energy. Excelling with neither sword nor gun, they can use either to augment their offense.
Sigil of Consumption

---

01/12

32

Energy Cost


3

Second Skill Recharge


6

Second Duration


3.5

Meter Radius


14

Vitality Damage


10

Decay Vitality Damage over

2

Seconds


15%

of Attack damage converted to Health

---

12/12

95

Energy Cost


5

Meter Radius


110

Vitality Damage


120

Decay Vitality Damage over

2

Seconds


30%

of Attack damage converted to Health

Solael's Witchfire

---

01/12
This ability must be toggled to maintain its effect.


0.5

Active Energy Cost per Second


75

Energy Reserved


8

Chaos Damage


+8%

Vitality Damage


+8%

Vitality Decay


+1%

Attack Speed

---

12/12

1.5

Active Energy Cost per Second


130

Energy Reserved


55

Chaos Damage


+85%

Vitality Damage


+85%

Vitality Decay


+15%

Attack Speed

Second Rite

---

01/12

+0.5

Active Energy Cost per Second


+18

Energy Reserved


8

Vitality Damage


30

Vitality Decay Damage over

3

Seconds


+8%

Chaos Damage


3%

Vitality Resistance

---

12/12

+1.8

Active Energy Cost per Second


+40

Energy Reserved


59

Vitality Damage


165

Vitality Decay Damage over

3

Seconds


+85%

Chaos Damage


25%

Vitality Resistance

Possession

---

01/12
This ability must be toggled to maintain its effect.


2%

Damage Absorption


10

Chaos Damage


+25%

Acid Damage


+25%

Vitality Damage


+25%

Chaos Damage


+25%

Poison Damage


+25%

Vitality Decay


2%

Chaos Resistance


100%

Skill Disruption Protection

---

12/12

15%

Damage Absorption


42

Chaos Damage


+135%

Acid Damage


+135%

Vitality Damage


+135%

Chaos Damage


+135%

Poison Damage


+135%

Vitality Decay


25%

Chaos Resistance


100%

Skill Disruption Protection

Terrifying Gaze

---

01/12

+2

Energy Cost


3%

of Retaliation Damage added to Attack


5%

Chance for one of the following:
Stun target for

1.5 - 3

Seconds
Confuse target for

3 - 5

Seconds


5

Vitality Damage


+5%

Acid Damage


+8%

Poison Damage with

+12%

Increased Duration

---

12/12

+18

Energy Cost


10%

of Retaliation Damage added to Attack


14%

Chance for one of the following:
Stun target for

1.5 - 3

Seconds
Confuse target for

3 - 5

Seconds


82

Vitality Damage


+60%

Acid Damage


+75%

Poison Damage with

+100%

Increased Duration

Black Death

---

01/12

+5

Energy Cost


+1

Second Duration


12

Poison Damage per Second


+8%

Vitality Damage


+6%

Bleeding Damage with

+25%

Increased Duration


8%

Chance of Confuse target for

3 - 5

Seconds

---

12/12

+31

Energy Cost


+3

Second Duration


100

Poison Damage per Second


+96%

Vitality Damage


+72%

Bleeding Damage with

+100%

Increased Duration


30%

Chance of Confuse target for

3 - 5

Seconds

Blood of Dreeg

---

01/16
This effect is also applied to nearby allies.


24

Energy Cost


15

Second Skill Recharge


30

Second Duration


20

Meter Radius


10%

Health Restored


5

Acid Damage


+10

Offensive Ability


+8

Health Regenerated per Second


19

Acid Retaliation

---

16/16

90

Energy Cost


28%

Health Restored


44

Acid Damage


+138

Offensive Ability


+106

Health Regenerated per Second


152

Acid Retaliation

Aspect of the Guardian

---

01/12

+5

Energy Cost


+6%

Acid Damage


+6%

Vitality Damage


+6%

Poison Damage


1%

Physical Resistance


10%

Poison & Acid Resistance


+8%

to All Retaliation Damage

---

12/12

+16

Energy Cost


+72%

Acid Damage


+72%

Vitality Damage


+72%

Poison Damage


12%

Physical Resistance


100%

Poison & Acid Resistance


+85%

to All Retaliation Damage

Summon Familiar

---

01/16

100 Energy Cost
18 Second Skill Recharge

Great Raven Attributes:
x Health
x Energy

Great Raven Abilities:
Storm Orb

14%

Pet Basic Attack Damage

6-12

Lightning Damage

6

Electrocute Damage over

2

Seconds

---

16/16

175 Energy Cost
18 Second Skill Recharge

Great Raven Attributes:
x Health
x Energy

Great Raven Abilities:
+100% to All Damage
+33% Crit Damage
+75% Health
Increases Energy Regeneration by 150%
Storm Orb

126-147

Lightning Damage

334

Electrocute Damage over

2

Seconds

Lightning Strike

---

01/12

60

Energy Cost


3

Meter Radius


35%

Basic Pet Attack Damage


80-155

Lightning Damage


9

Electrocute Damage over

3

Seconds


+5%

Crit Damage
Stun target for

1

Second

---

12/12

126

Energy Cost


68%

Basic Pet Attack Damage


357-612

Lightning Damage


9

Electrocute Damage over

3

Seconds


+33%

Crit Damage
Stun target for

2

Seconds

Bonds of Bysmiel

---

01/12
This ability must be toggled to maintain its efect.

1 Active Energy Cost per Second
+75 Energy Reserved

Bonus to All Pets
+12% Health
Increases Energy regeneration by 12%

---

12/12

1 Active Energy Cost per Second
+130 Energy Reserved

Bonus to All Pets
+100% Health
Increases Energy regeneration by 100%

Summon Hellhound

---

01/16

150 Energy Cost
18 Second Skill Recharge

Hellhound Attributes:
x Health
x Energy

Hellhound Abilities:
Claw and Fang Attacks

3-7

Physical Damage

5

Fire Damage

Blazing Death

5

Meter Radius


20%

Pet Basic Attack Damage

75

Physical Damage

58

Fire Damage

35

Chaos Damage

10%

Reduction to Enemy's Health

---

16/16

225 Energy Cost
18 Second Skill Recharge

Hellhound Attributes:
x Health
x Energy

Hellhound Abilities:
+100% to All Damage
+33% Crit Damage
+75% Health
Increases Energy Regeneration by 150%
Claw and Fang Attacks

68-76

Physical Damage

94

Fire Damage

Blazing Death

125%

Pet Basic Attack Damage

405

Physical Damage

388

Fire Damage

215

Chaos Damage

25%

Reduction to Enemy's Health

1
5
10
15
20
25
32
40
50
| | |
| --- | --- |
| | An in-depth study on the manipulation and control of the occult. |
Each point invested in the Occultist skill mastery gives the following stat bonuses:
+2.5 Physique
+4.5 Spirit
+3 Cunning
+20 Health
+18 Energy
Combining the Occultist with another Mastery forms the following hybrid classes:
Constellations
Tier 1


Anvil • Empty Throne • Falcon • Hammer • Harpy • Owl • Shepherd's Crook • Toad • Wolverine


Fiend • Ghoul • Jackal • Rat • Viper • Vulture • Wretch


Akeron's Scorpion • Bat • Eye of the Guardian • Fox • Hawk • Quill • Raven • Scholar's Light • Spider

Assassin's Blade • Crane • Dryad • Lion • Panther • Stag • Tortoise
Bull • Eel • Gallows • Hound • Imp • Lizard • Sailor's Guide • Tsunami • Wraith
Tier 2
Affliction • Alladrah's Phoenix • Amatok the Spirit of Winter • Assassin • Autumn Boar • Bard's Harp • Behemoth • Berserker • Blades of Nadaan • Bysmiel's Bonds • Chariot of the Dead • Crab • Dire Bear • Harvestman's Scythe • Huntress • Hydra • Kraken • Magi • Manticore • Messenger of War • Murmur, Mistress of Rumors • Oklaine's Lantern • Revenant • Rhowan's Crown • Rhowan's Scepter • Scales of Ulcama • Shieldmaiden • Solael's Witchblade • Solemn Watcher • Staff of Rattosh • Targo the Builder • Tempest • Typhos, the Jailor of Souls • Ulo the Keeper of the Waters • Wendigo • Widow
Tier 3
Abomination • Aeon's Hourglass • Attak Seru, the Mirage • Blind Sage • Crossroads • Devotion • Dying God • Ishtak, the Spring Maiden • Leviathan • Light of Empyrion • Mogdrogen the Wolf • Obelisk of Menhir • Oleron • Rattosh, the Veilwarden • Spear of the Heavens • Tree of Life • Ulzuin's Torch • Ultos, Shepherd of Storms • Unknown Soldier • Vire, the Stone Matron