As part of the Unified Community Platform project, this wiki and 38 others will be migrated to the new platform in the next few weeks. Minimal changes are expected as part of this migration. Read more here.
Nightblade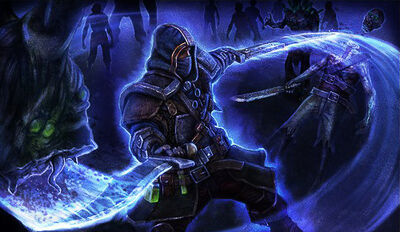 Nightblades are deadly melee fighters and assassins. Unlike the Soldier, a Nightblade approaches combat with the intent of ending it quickly and decisively. Prolonged encounters can be dangerous, but the Nightblade is not without his illusions and tricks. Using conjured illusions that seem so real that they can inflict actual physical harm, these highly skilled combatants can fight their way out of nearly any situation. While Nightblades are not restricted to any particular weapon type, they excel when dual wielding swords and fading in and out of melee combat with their adversaries.
Nightblades were clandestine warriors that sold their services to the great houses of the empire. Nightblades excel with all manner of martial weapons, but are even more feared for the deadly blade magic that is the secret of their trade. Nightblades are not suited to go toe to toe with tougher enemies and rely on illusion to close for quick, devastating attacks or fight from a distance with phantasmal blades.
Nidalla's Hidden Hand

---

01/08

6

Acid Damage


30

Poison Damage over

5

Seconds


+8%

Acid Damage


+8%

Poison Damage


12%

Slow target for

5

Seconds


5%

Piercing Damage converted to Acid Damage

---

08/08

28

Acid Damage


160

Poison Damage over

5

Seconds


+66%

Acid Damage


+66%

Poison Damage


30%

Slow target for

5

Seconds


33%

Piercing Damage converted to Acid Damage

Heart Seeker

---

01/12

+4

Energy Cost


10%

Chance to pass through Enemies


19

Vitality Damage


+10%

Bleeding Damage with

+10%

Increased Duration


3%

of Attack Damage converted to Health

---

12/12

+26

Energy Cost


65%

Chance to pass through Enemies


135

Vitality Damage


+100%

Bleeding Damage with

+40%

Increased Duration


10%

of Attack Damage converted to Health

Blade Spirit

---

01/16

100 Energy Cost
5 Second Skill Recharge
1 Meter Radius
2 Summon Limit

Blade Spirit Attributes:

Blade Spirit Abilities:
Whirling Blades

3.3

Meter Radius

40-55

Piercing Damage

48

Cold Damage

68

Bleeding Damage over

2

Seconds

---

16/16

160 Energy Cost

Blade Spirit Attributes:

Blade Spirit Abilities:
Whirling Blades

3.3

Meter Radius

190-220

Piercing Damage

153

Cold Damage

380

Bleeding Damage over

2

Seconds

Amarasta's Blade Burst

---

01/16
Requires a melee weapon or two-handed ranged weapon.


12

Energy Cost


1.8

Second Skill Recharge


3

Meter Target Area


75%

Weapon Damage


6

Cold Damage


20

Frostburn Damage over

2

Seconds


8%

Chance to Freeze target for

1

Second

---

16/16

65

Energy Cost


5

Meter Target Area


180%

Weapon Damage


96

Cold Damage


290

Frostburn Damage over

2

Seconds


25%

Chance to Freeze target for

1

Second

Circle of Slaughter

---

01/12

+5

Energy Cost


90-114

Bleeding Damage over

3

Seconds


+8%

Crit Damage


+10%

Pierce Damage


12%

Chance for target to Fumble attacks for

5

Seconds

---

12/12

+16

Energy Cost


624-867

Bleeding Damage over

3

Seconds


+35%

Crit Damage


+100%

Pierce Damage


35%

Chance for target to Fumble attacks for

5

Seconds

Nightfall

---

01/12

3.3

Meter Radius


20%

Weapon Damage


40

Cold Damage


114

Frostburn Damage over

3

Seconds


99

Vitality Decay Damage over

3

Seconds


3%

of Attack Damage converted to Health


15%

Chance of Put target to Sleep for

3 - 5

Seconds

---

12/12

5.5

Meter Radius


55%

Weapon Damage


174

Cold Damage


576

Frostburn Damage over

3

Seconds


495

Vitality Decay Damage over

3

Seconds


12%

of Attack Damage converted to Health


50%

Chance of Put target to Sleep for

3 - 5

Seconds

Blade Barrier

---

01/12

32

Energy Cost


36

Second Skill Recharge


3

Second Duration


100%

Damage Absorption


+150

Health Regenerated per Second


25%

Reduced Stun Duration


25%

Reduced Freeze Duration


100%

Reduced Entrapment Duration


25%

Reduced Petrify Duration


50

Physical Damage Retaliation

---

12/12

54

Energy Cost


16

Second Skill Recharge


+1250

Health Regenerated per Second


60%

Reduced Stun Duration


60%

Reduced Freeze Duration


60%

Reduced Petrify Duration


1040

Physical Damage Retaliation

Devouring Blades

---

01/12

+3

Energy Cost


15%

Chance to Pass through Enemies


1.5

Meter Radius


16

Vitality Damage


+10%

Pierce Damage


+25%

Bleeding Damage


30%

of Attack Damage converted to Health

---

12/12

+14

Energy Cost


70%

Chance to Pass through Enemies


93

Vitality Damage


+98%

Pierce Damage


+124%

Bleeding Damage


70%

of Attack Damage converted to Health

Phantasmal Armor

---

01/12

+10%

Energy Absorbed from Enemy Spells


+15

Armor


3%

Pierce Resistance


3%

Reduced Freeze Duration


3%

Reduced Petrify Duration


33%

Chance of

30

Energy Leech Retaliation over

2

Seconds

---

12/12

+124

Armor


30%

Pierce Resistance


30%

Reduced Freeze Duration


36%

Reduced Petrify Duration


33%

Chance of

204

Energy Leech Retaliation over

2

Seconds

Anatomy of Murder

---

01/12

+8%

Vitality Damage


+8%

Bleeding Damage with

+10%

Increased Duration


+8%

Vitality Decay with

+10%

Increased Duration


+4%

Damage to Humans


+3%

Cunning

---

12/12

+96%

Vitality Damage


+96%

Bleeding Damage with

+50%

Increased Duration


+96%

Vitality Decay with

+50%

Increased Duration


+15%

Damage to Humans


+25%

Cunning

Merciless Repertoire

---

01/12

35

Poison Damage over

5

Seconds


+10%

Cold Damage


+10%

Acid Damage


+10%

Frostburn Damage


+10%

Poison Damage


+8%

to All Retaliation Damage

---

12/12

200

Poison Damage over

5

Seconds


+110%

Cold Damage


+110%

Acid Damage


+110%

Frostburn Damage


+110%

Poison Damage


+85%

to All Retaliation Damage

1
5
10
15
20
25
32
40
50
| | |
| --- | --- |
| | Practice in the art of illusion and whirling blades. |
Each point invested in the Nightblade skill mastery gives the following stat bonuses:
+3.5 Physique
+2.5 Spirit
+4 Cunning
+26 Health
+12 Energy
Combining the Nightblade with another Mastery forms the following hybrid classes:
Constellations
Tier 1


Anvil • Empty Throne • Falcon • Hammer • Harpy • Owl • Shepherd's Crook • Toad • Wolverine


Fiend • Ghoul • Jackal • Rat • Viper • Vulture • Wretch


Akeron's Scorpion • Bat • Eye of the Guardian • Fox • Hawk • Quill • Raven • Scholar's Light • Spider

Assassin's Blade • Crane • Dryad • Lion • Panther • Stag • Tortoise
Bull • Eel • Gallows • Hound • Imp • Lizard • Sailor's Guide • Tsunami • Wraith
Tier 2
Affliction • Alladrah's Phoenix • Amatok the Spirit of Winter • Assassin • Autumn Boar • Bard's Harp • Behemoth • Berserker • Blades of Nadaan • Bysmiel's Bonds • Chariot of the Dead • Crab • Dire Bear • Harvestman's Scythe • Huntress • Hydra • Kraken • Magi • Manticore • Messenger of War • Murmur, Mistress of Rumors • Oklaine's Lantern • Revenant • Rhowan's Crown • Rhowan's Scepter • Scales of Ulcama • Shieldmaiden • Solael's Witchblade • Solemn Watcher • Staff of Rattosh • Targo the Builder • Tempest • Typhos, the Jailor of Souls • Ulo the Keeper of the Waters • Wendigo • Widow
Tier 3
Abomination • Aeon's Hourglass • Attak Seru, the Mirage • Blind Sage • Crossroads • Devotion • Dying God • Ishtak, the Spring Maiden • Leviathan • Light of Empyrion • Mogdrogen the Wolf • Obelisk of Menhir • Oleron • Rattosh, the Veilwarden • Spear of the Heavens • Tree of Life • Ulzuin's Torch • Ultos, Shepherd of Storms • Unknown Soldier • Vire, the Stone Matron