In the next few weeks, your wiki will be migrated to a Fandom.com domain. Learn more here.
Nemesis (relic)
Nemesis is a Mythical Relic.
This item can only be acquired by crafting. A Blueprint is required.
Nemesis
"The moon as my guide, shadows my allies, I am the hunter..."
Mythical Relic

9

Cold Damage

+33%

Pierce Damage

+78%

Cold Damage

+35

Cunning

+6%

Total Speed

+15%

Damage to Humans

+1

to All Skills in Nightblade
Granted Skills
Summon Nemesis (Granted by Item)

Call forth Nemesis, demigod of the shadows and lord of the night hunt.

You can only summon one manifestation of Nemesis at any one time. Nemesis scales with player damage bonuses.
180

Energy Cost

30

Second Skill Recharge
Nemesis Abilities
Innate Attributes

136

Piercing Damage

136-226

Cold Damage

150

Reduced target's Defensive Ability for

5

Seconds
Required Player Level: 60
Item Level: 60
+1 to Heart Seeker
+1 to Devouring Blades
+1 to Circle of Slaughter
+1 to Shadow Dance
+1 to Devouring Blades
+1 to Pneumatic Burst
+1 to Nidalla's Justifiable Ends
+1 to Night's Chill
+1 to Shadow Dance
+1 to Amarasta's Blade Burst
+1 to Night's Chill
+1 to Nether Edge
+1 to Nether Edge
+1 to Nightfall
+1 to Nightfall
+1 to Amarasta's Blade Burst
+1 to Amarasta's Blade Burst
+1 to Heart Seeker
+1 to Heart Seeker
+1 to Blade Trap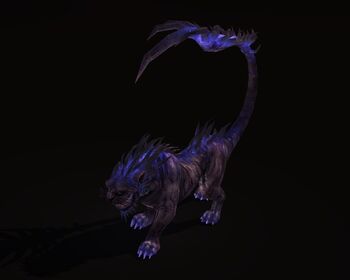 Nemesis Skills
3 Target Maximum
136 Pierce Damage
136-226 Cold Damage
35% reduced Movement Speed for 3 Seconds
25% Chance of 60 Reduced target's Defensive Ability for 5 Seconds
+100% Movement Speed
276 Pierce Damage
252-412 Cold Damage
33% Chance of 60 Reduced target's Defensive Ability for 5 Seconds
34 Skill Energy Cost
210 Pierce Damage
210 Cold damage
1350 Frostburn Damage over 5 Seconds
Freeze target for 3-5 Seconds
Constellations
Tier 1

Anvil • Empty Throne • Falcon • Hammer • Harpy • Owl • Shepherd's Crook • Toad • Wolverine

Fiend • Ghoul • Jackal • Rat • Viper • Vulture • Wretch

Akeron's Scorpion • Bat • Eye of the Guardian • Fox • Hawk • Quill • Raven • Scholar's Light • Spider

Assassin's Blade • Crane • Dryad • Lion • Panther • Stag • Tortoise

Bull • Eel • Gallows • Hound • Imp • Lizard • Sailor's Guide • Tsunami • Wraith
Tier 2
Affliction • Alladrah's Phoenix • Amatok the Spirit of Winter • Assassin • Autumn Boar • Bard's Harp • Behemoth • Berserker • Blades of Nadaan • Bysmiel's Bonds • Chariot of the Dead • Crab • Dire Bear • Harvestman's Scythe • Huntress • Hydra • Kraken • Magi • Manticore • Messenger of War • Murmur, Mistress of Rumors • Oklaine's Lantern • Revenant • Rhowan's Crown • Rhowan's Scepter • Scales of Ulcama • Shieldmaiden • Solael's Witchblade • Solemn Watcher • Staff of Rattosh • Targo the Builder • Tempest • Typhos, the Jailor of Souls • Ulo the Keeper of the Waters • Wendigo • Widow
Tier 3
Abomination • Aeon's Hourglass • Attak Seru, the Mirage • Blind Sage • Crossroads • Devotion • Dying God • Ishtak, the Spring Maiden • Leviathan • Light of Empyrion • Mogdrogen the Wolf • Obelisk of Menhir • Oleron • Rattosh, the Veilwarden • Spear of the Heavens • Tree of Life • Ulzuin's Torch • Ultos, Shepherd of Storms • Unknown Soldier • Vire, the Stone Matron