In the next few weeks, your wiki will be migrated to a Fandom.com domain. Learn more here.
Mourndale
Mourndale

Location Info

Act:

6

Monster
Levels:

63-68 • 74-85 • 85-120

Riftgate:

No

Adjacent:

Quests:
Mourndale is a world area in Act 6, and connects to Lone Watch and Malmouth Outskirts. A Chthonic rift, with three possible locations, leads to the Cinder Wastes.
Bloodsworn - Adulant, Bloodsworn Zealot, Bloodsworn Void-Caller

Nathalian, The Houndcaller (Bloodsworn Hero)
Aether Crystal, Aetherial Crystal Cluster, Aetherial Scamp, Aetherial Imp, Aetherial Obelisk, Aetherial Terraformer
Fleshwarped Imp, Tainted Hound, Tainted Pack Leader, Burning Dead
Fleshwarped Corruption, Fleshshaper, Fleshwarped Abberation
Fleshwarped Chilled One, Fleshwarped Scorcher, Fleshwarped Stormwalker
Aetherial Bloater, Aetherial Bileeater, Aetherial Behemoth, Aetherial Colossus, Aetherial Titan
Aetherial Sentinel
Chthonian Hungerer, Chthonian Devourer, Chthonian Gorger
Voidfiend, Voidfiend Incinerator, Voidfiend Hellion, Voidlurker Pestilence
Void Parasite, Void Leech, Void Souldrinker
Chthonian Servitor, Chthonian Harvester, Chthonian Bloodkeeper

Raka'Valgoth the Fleshdrinker - Chthonian Insectoid Boss
Chthonian Vanguard, Chthonian Harbinger, Chthonian Dreadguard, Chthnonian Tyrant
Void Rylok, Void Taskmaster, Void Oppressor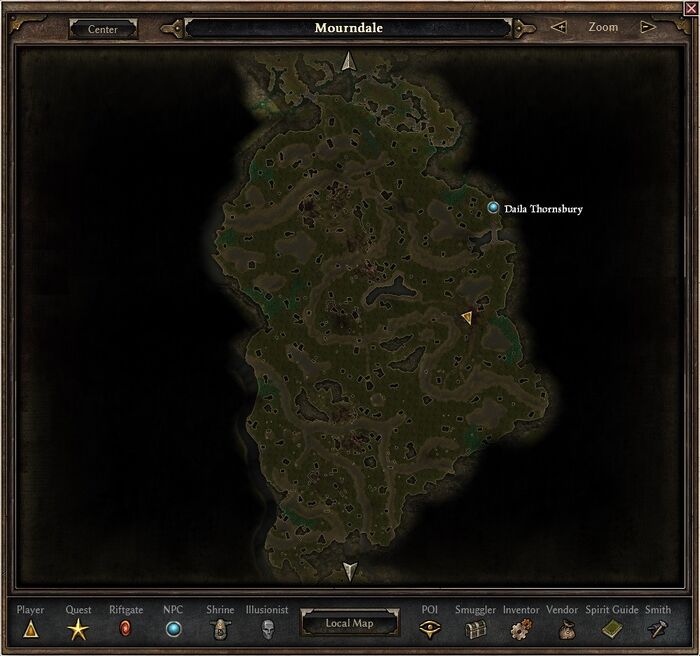 Constellations
Tier 1

Anvil • Empty Throne • Falcon • Hammer • Harpy • Owl • Shepherd's Crook • Toad • Wolverine

Fiend • Ghoul • Jackal • Rat • Viper • Vulture • Wretch

Akeron's Scorpion • Bat • Eye of the Guardian • Fox • Hawk • Quill • Raven • Scholar's Light • Spider

Assassin's Blade • Crane • Dryad • Lion • Panther • Stag • Tortoise

Bull • Eel • Gallows • Hound • Imp • Lizard • Sailor's Guide • Tsunami • Wraith
Tier 2
Affliction • Alladrah's Phoenix • Amatok the Spirit of Winter • Assassin • Autumn Boar • Bard's Harp • Behemoth • Berserker • Blades of Nadaan • Bysmiel's Bonds • Chariot of the Dead • Crab • Dire Bear • Harvestman's Scythe • Huntress • Hydra • Kraken • Magi • Manticore • Messenger of War • Murmur, Mistress of Rumors • Oklaine's Lantern • Revenant • Rhowan's Crown • Rhowan's Scepter • Scales of Ulcama • Shieldmaiden • Solael's Witchblade • Solemn Watcher • Staff of Rattosh • Targo the Builder • Tempest • Typhos, the Jailor of Souls • Ulo the Keeper of the Waters • Wendigo • Widow
Tier 3
Abomination • Aeon's Hourglass • Attak Seru, the Mirage • Blind Sage • Crossroads • Devotion • Dying God • Ishtak, the Spring Maiden • Leviathan • Light of Empyrion • Mogdrogen the Wolf • Obelisk of Menhir • Oleron • Rattosh, the Veilwarden • Spear of the Heavens • Tree of Life • Ulzuin's Torch • Ultos, Shepherd of Storms • Unknown Soldier • Vire, the Stone Matron