Lost Father
This is a small Act 5 side quest, offered by Amala Torven after accepting the Desperate Measures quest.
Whilst traveling from Malmouth to Devil's Crossing, Amala Torven and her father were attacked by cannibals in Gloomwald. Amala was forced to leave her injured father behind in order to seek aid. She asks if you can search for him.
Find Garett Torven in Gloomwald
Speak with Amala Torven in Devil's Crossing
Garett Torven can be found in Gloomwald, directly south of the Gloomwald Crossing Rift. Talk to him and he will be teleported to safety in Devil's Crossing. Return there and speak to Amala to claim the reward.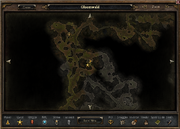 Quest log
Amala's father, Garett, was too injured to go on and Amala was forced to abandon him in Gloomwald in order to seek assistance. She eventually found her way to Devil's Crossing, but her father is still out there.

Amala has hopes that he is still alive, but many dangers lurk within the thorned wood. She has beseeched you to seek out Garett in Gloomwald on your way up to Ugdenbog, north of the Burrwitch Estates.

Objectives:
Find Garett Torven in Gloomwald
You found Amala's father and sent him to the safety of Devil's Crossing.

Speak to Amala in Devil's Crossing to see how he is faring.

Objectives:
Speak with Amala Torven in Devil's Crossing
Constellations
Tier 1

Anvil • Empty Throne • Falcon • Hammer • Harpy • Owl • Shepherd's Crook • Toad • Wolverine

Fiend • Ghoul • Jackal • Rat • Viper • Vulture • Wretch

Akeron's Scorpion • Bat • Eye of the Guardian • Fox • Hawk • Quill • Raven • Scholar's Light • Spider

Assassin's Blade • Crane • Dryad • Lion • Panther • Stag • Tortoise

Bull • Eel • Gallows • Hound • Imp • Lizard • Sailor's Guide • Tsunami • Wraith
Tier 2
Affliction • Alladrah's Phoenix • Amatok the Spirit of Winter • Assassin • Autumn Boar • Bard's Harp • Behemoth • Berserker • Blades of Nadaan • Bysmiel's Bonds • Chariot of the Dead • Crab • Dire Bear • Harvestman's Scythe • Huntress • Hydra • Kraken • Magi • Manticore • Messenger of War • Murmur, Mistress of Rumors • Oklaine's Lantern • Revenant • Rhowan's Crown • Rhowan's Scepter • Scales of Ulcama • Shieldmaiden • Solael's Witchblade • Solemn Watcher • Staff of Rattosh • Targo the Builder • Tempest • Typhos, the Jailor of Souls • Ulo the Keeper of the Waters • Wendigo • Widow
Tier 3
Abomination • Aeon's Hourglass • Attak Seru, the Mirage • Blind Sage • Crossroads • Devotion • Dying God • Ishtak, the Spring Maiden • Leviathan • Light of Empyrion • Mogdrogen the Wolf • Obelisk of Menhir • Oleron • Rattosh, the Veilwarden • Spear of the Heavens • Tree of Life • Ulzuin's Torch • Ultos, Shepherd of Storms • Unknown Soldier • Vire, the Stone Matron