Loghorrean, the Voice of Ch'thon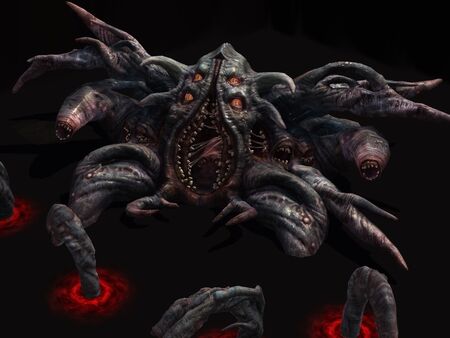 The Loghorrean, the Voice of Ch'thon is a unique Boss creature located in the Edge of Madness.
He is the final boss for Act 4 and must be killed to access the next difficulty and complete The Bane of Cairn quest.
The fight is divided into 3 phases:
with Ulgrim fighting at the player's side.
when Loghorrean is at 65% health, Ulgrim is consumed by the void and two Loghorrean's Vanguard (Hero monsters) are summoned.
at 50% Health Loghorrean gains a 10% cast and attack speed increase and starts casting Summon Void.
Family: Chthonic
Genus: Voice of Ch'Thon
"You say this thing has been summoned before?" - Player

"Yes, many centuries ago, at the Battle of Ikon. Nobody knows for sure whether it was the Carineans performing a last desperate maneuver, or perhaps the Loghorrean was drawn to all the spilled blood, but the results were catastrophic." - Ulgrim
Skill Name
Skill Type
Damage Type
Passive
509-675 (Lvl 50) to 954-1265 (Lvl 85) Physical Damage with 15% chance of 15% Increased Damage
8% to 20% chance of 40% increased Physical damage
15% chance of 50% increased Physical damage
75 (Lvl 50) to 208 (Lvl 85) Chaos Damage
8% to 20% chance of 30% increased Chaos damage
20% Increased Damage against Eldritch and Magical races
Roar of Madness
AoE
35 Meter Radius
-(20 to 40)% Current Life
(0-3) Seconds of Confusion
(0-2.2) Seconds of Stun
Chaos Barrage
Projectile
3 Meter Radius
x Fire Damage
x Chaos Damage

Doom Bolt (Phase 2)
1.5 Meter radius
x Chaos Damage
x Vitality Damage
-(8 to 18)% Current Life
Summon Devourers (Phase 1)
Pet
Lives for 30 Seconds
(3-6) summon limit
Summon Dreadguards (Phase 2)




Summon Tentacle




Summon Void
(9-12) Second Duration
x Chaos Damage
-2-4% Current Life
(25-40)% Chance of Impaired Aim for 2 Seconds
Chomp
x chaos Damage
-18 - (25 to 75)% current life
(500 to 1000) Life Leech
Acid Vomit
Projectile
(4 to 9) projectiles
x Physical Damage
x Chaos Damage
x Acid Damage
x Poison Damage over 5 Seconds
33% Chance of 2 seconds Confusion
15% Chance of 6 Seconds Convert
Level 6 Hero/Boss Resistances
649 Armor (Lvl 50) to 1651 Armor (Lvl 85)
Physical: 30%
Pierce: 25%
Freeze: 500%
Knockdown: 500%
Petrify: 500%
Sleep: 500%
Stun: 500%
Trap: 500%
15% less Damage from Eldritch and Magical races
Constellations
Tier 1

Anvil • Empty Throne • Falcon • Hammer • Harpy • Owl • Shepherd's Crook • Toad • Wolverine

Fiend • Ghoul • Jackal • Rat • Viper • Vulture • Wretch

Akeron's Scorpion • Bat • Eye of the Guardian • Fox • Hawk • Quill • Raven • Scholar's Light • Spider

Assassin's Blade • Crane • Dryad • Lion • Panther • Stag • Tortoise

Bull • Eel • Gallows • Hound • Imp • Lizard • Sailor's Guide • Tsunami • Wraith
Tier 2
Affliction • Alladrah's Phoenix • Amatok the Spirit of Winter • Assassin • Autumn Boar • Bard's Harp • Behemoth • Berserker • Blades of Nadaan • Bysmiel's Bonds • Chariot of the Dead • Crab • Dire Bear • Harvestman's Scythe • Huntress • Hydra • Kraken • Magi • Manticore • Messenger of War • Murmur, Mistress of Rumors • Oklaine's Lantern • Revenant • Rhowan's Crown • Rhowan's Scepter • Scales of Ulcama • Shieldmaiden • Solael's Witchblade • Solemn Watcher • Staff of Rattosh • Targo the Builder • Tempest • Typhos, the Jailor of Souls • Ulo the Keeper of the Waters • Wendigo • Widow
Tier 3
Abomination • Aeon's Hourglass • Attak Seru, the Mirage • Blind Sage • Crossroads • Devotion • Dying God • Ishtak, the Spring Maiden • Leviathan • Light of Empyrion • Mogdrogen the Wolf • Obelisk of Menhir • Oleron • Rattosh, the Veilwarden • Spear of the Heavens • Tree of Life • Ulzuin's Torch • Ultos, Shepherd of Storms • Unknown Soldier • Vire, the Stone Matron