Karroz, Sigil of Ch'thon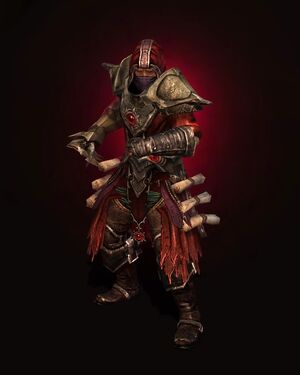 Karroz, Sigil of Ch'thon is a unique Boss creature that can be found at the end of the 2nd level of Darkvale Gate. Killing him is necessary to complete the Reaping What You Sow quest as he drops the Karroz's Tome quest item.
The fight against Karroz is devided in two stages:
You fight Karroz himself.
On death, his body is used as a portal by a Chthonian entity: Thall'Nosh the Unraveller.
Family: Human
Genus: Bloodsworn
Skill Name
Skill Type
Damage Type
Passive

26% Chaos Resistance
26% Fire Resistance
12% to 14% Chance to Deflect Projectiles
8% Chance to Disrupt Skills for 1.5 Seconds

Chaos Aura
AoE Buff

10 Meter radius
Chaos Damage
+25% Chaos Damage
10% Damage Absorption
Life Leech

Chaos Orb
Projectile

1 Projectile
Chaos Damage

Doom Bolt

1.5 Meter radius
Chaos Damage
Vitality Damage

Curse
debuff

5 Meter radius
8 Second Duration
(-50 to -209)% Health Regeneration
(-35 to -50)% Movement Speed
-4/-10% Offensive Ability
-18/25% Chaos Resistance
-18/25% Poison Resistance
-18/25% Vitality Resistance

Ring of Chaos
Duration AoE

4 Meter radius
6 Second duration
Chaos Damage
66% Chance of one of the following:

Convert target for 4 Seconds
Confuse target for 3 Seconds

Rally
Buff

Activates at 30% Health
5 Second Duration
+30% Chaos Damage
+30% Vitality Damage

Summon Void Fiend
Pet
Summon Chthonian Devourer
Pet
| Skill Name | Skill Type | Damage Type |
| --- | --- | --- |
| Passive | | |
| Chaos Vortex | | |
| Impale | | |
| Summon Tentacles | | |
| Nova Life Drain | | |
| Curse | | |
| Summon Chthonian Devourer | | |
| Summon Obsidian Shards | | |
| | |
| --- | --- |
| Chaos | 25% |
| Vitality | 25% |
| Freeze | 500% |
| Knockdown | 500% |
Constellations
Tier 1

Anvil • Empty Throne • Falcon • Hammer • Harpy • Owl • Shepherd's Crook • Toad • Wolverine

Fiend • Ghoul • Jackal • Rat • Viper • Vulture • Wretch

Akeron's Scorpion • Bat • Eye of the Guardian • Fox • Hawk • Quill • Raven • Scholar's Light • Spider

Assassin's Blade • Crane • Dryad • Lion • Panther • Stag • Tortoise

Bull • Eel • Gallows • Hound • Imp • Lizard • Sailor's Guide • Tsunami • Wraith
Tier 2
Affliction • Alladrah's Phoenix • Amatok the Spirit of Winter • Assassin • Autumn Boar • Bard's Harp • Behemoth • Berserker • Blades of Nadaan • Bysmiel's Bonds • Chariot of the Dead • Crab • Dire Bear • Harvestman's Scythe • Huntress • Hydra • Kraken • Magi • Manticore • Messenger of War • Murmur, Mistress of Rumors • Oklaine's Lantern • Revenant • Rhowan's Crown • Rhowan's Scepter • Scales of Ulcama • Shieldmaiden • Solael's Witchblade • Solemn Watcher • Staff of Rattosh • Targo the Builder • Tempest • Typhos, the Jailor of Souls • Ulo the Keeper of the Waters • Wendigo • Widow
Tier 3
Abomination • Aeon's Hourglass • Attak Seru, the Mirage • Blind Sage • Crossroads • Devotion • Dying God • Ishtak, the Spring Maiden • Leviathan • Light of Empyrion • Mogdrogen the Wolf • Obelisk of Menhir • Oleron • Rattosh, the Veilwarden • Spear of the Heavens • Tree of Life • Ulzuin's Torch • Ultos, Shepherd of Storms • Unknown Soldier • Vire, the Stone Matron