In the next few weeks, your wiki will be migrated to a Fandom.com domain. Learn more here.
Hidden Laboratory
Hidden Laboratory

Location Info

Act:

1

Monster
Levels:

16-30 • 50-65 • 72-100

Riftgate:

Yes

Adjacent:

Quests:

None
Hidden Laboratory is world area in Act 1 and contains a Riftgate. It is accessible from the Underground Transit and has two hidden entrances into the Ominous Lair.
The area is divided into several sections:Living Quarters, Inner Laboratory, Abandoned Storerooms and finally the Underground Jail, which is home to the Act 1 Boss, The Warden.
Untouched meal
Warden's Chest (Boss Room)
Corruption
Overseer
Overmind
Walking Dead
Wretcher
Burning Dead
Plague Walker
Fury
Cold One
Tainted Hound
Rotting Soldier
Rotting Emberguard
Corpsefiend
Fleshwarped Butcher
Fleshwarped Thrasher
Reanimator
Dominator
Dreadweave Arachnid
Dreadweave Spitter
Dreadweave Leaper
Dreadweave Widow
Dreadweave Matriarch
Spiderling
Boneback
Boneback Gnasher
Rabid Boneback
Boneback Plaguebearer
Scrapheap Rift Scourge
Acidbile Rift Scourge
Stormscale Rift Scourge
Bladespine Rift Scourge
Infested Rift Scourge
Swarmborn Rift Scourge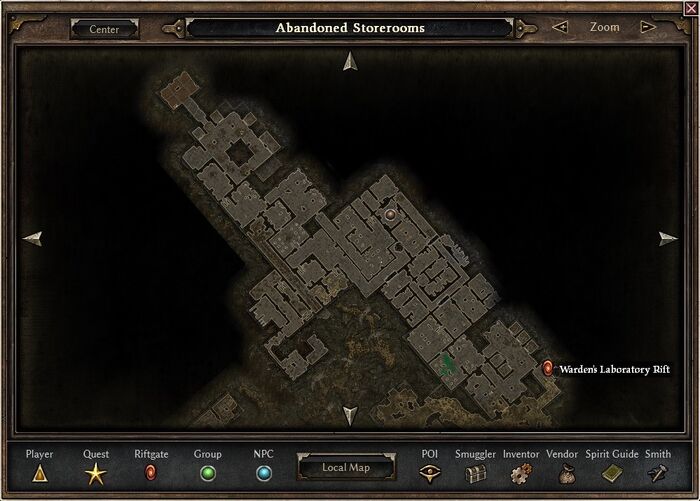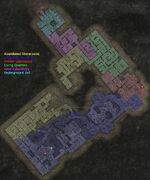 Constellations
Tier 1

Anvil • Empty Throne • Falcon • Hammer • Harpy • Owl • Shepherd's Crook • Toad • Wolverine

Fiend • Ghoul • Jackal • Rat • Viper • Vulture • Wretch

Akeron's Scorpion • Bat • Eye of the Guardian • Fox • Hawk • Quill • Raven • Scholar's Light • Spider

Assassin's Blade • Crane • Dryad • Lion • Panther • Stag • Tortoise

Bull • Eel • Gallows • Hound • Imp • Lizard • Sailor's Guide • Tsunami • Wraith
Tier 2
Affliction • Alladrah's Phoenix • Amatok the Spirit of Winter • Assassin • Autumn Boar • Bard's Harp • Behemoth • Berserker • Blades of Nadaan • Bysmiel's Bonds • Chariot of the Dead • Crab • Dire Bear • Harvestman's Scythe • Huntress • Hydra • Kraken • Magi • Manticore • Messenger of War • Murmur, Mistress of Rumors • Oklaine's Lantern • Revenant • Rhowan's Crown • Rhowan's Scepter • Scales of Ulcama • Shieldmaiden • Solael's Witchblade • Solemn Watcher • Staff of Rattosh • Targo the Builder • Tempest • Typhos, the Jailor of Souls • Ulo the Keeper of the Waters • Wendigo • Widow
Tier 3
Abomination • Aeon's Hourglass • Attak Seru, the Mirage • Blind Sage • Crossroads • Devotion • Dying God • Ishtak, the Spring Maiden • Leviathan • Light of Empyrion • Mogdrogen the Wolf • Obelisk of Menhir • Oleron • Rattosh, the Veilwarden • Spear of the Heavens • Tree of Life • Ulzuin's Torch • Ultos, Shepherd of Storms • Unknown Soldier • Vire, the Stone Matron