Groble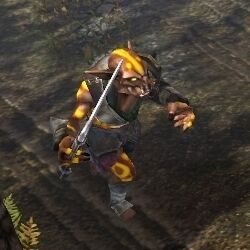 Grobles are a creature type belonging to the Beastkin race. They are small goblin-like creatures and are divided into different clans, each clan specialising in a different damage type. Groble casters can also drop a Monster Infrequent caster focus item.
All Groble clans have the same five variants in common, plus a unique caster.
Scavenger: The most common type. Uses melee attacks.
Tracker: uses ranged attacks. Can wield firearms and crossbows.
Warrior: uses melee attacks with extra magical damage.
Champion: uses melee attacks and a shield, and has higher armor.
Witchdoctor: Uses projectile magic attacks and cast a chain heal on allies.
Snake Clan Grobles deal Poison & Acid Damage, and are encountered in Act 1.
Stone Clan Grobles specialize in Physical Damage, and inhabit early Act 3 areas.
Ember Clan Grobles use Fire Damage, and inhabit early Act 3 areas.
Sky Clan Grobles use Lightning and Cold Damage, and inhabit early Act 4 areas.
Death Clan Grobles specialize in Vitality Damage, and are found only in the Craig's Crags area in Act 1.
Korvan Clan Grobles utilize Physical, Piercing and Bleed damage, and inhabit the Korvan Plateau areas of Act 7.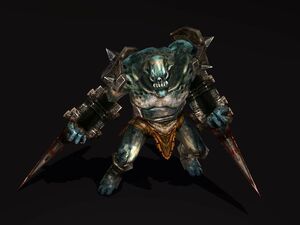 Grobles are sometimes found in the company of a Dranghoul. Much larger and mor powerful than normal Groble, it is unknown if Dranghouls are Grobles or not, but always spawn with them.
Constellations
Tier 1

Anvil • Empty Throne • Falcon • Hammer • Harpy • Owl • Shepherd's Crook • Toad • Wolverine

Fiend • Ghoul • Jackal • Rat • Viper • Vulture • Wretch

Akeron's Scorpion • Bat • Eye of the Guardian • Fox • Hawk • Quill • Raven • Scholar's Light • Spider

Assassin's Blade • Crane • Dryad • Lion • Panther • Stag • Tortoise

Bull • Eel • Gallows • Hound • Imp • Lizard • Sailor's Guide • Tsunami • Wraith
Tier 2
Affliction • Alladrah's Phoenix • Amatok the Spirit of Winter • Assassin • Autumn Boar • Bard's Harp • Behemoth • Berserker • Blades of Nadaan • Bysmiel's Bonds • Chariot of the Dead • Crab • Dire Bear • Harvestman's Scythe • Huntress • Hydra • Kraken • Magi • Manticore • Messenger of War • Murmur, Mistress of Rumors • Oklaine's Lantern • Revenant • Rhowan's Crown • Rhowan's Scepter • Scales of Ulcama • Shieldmaiden • Solael's Witchblade • Solemn Watcher • Staff of Rattosh • Targo the Builder • Tempest • Typhos, the Jailor of Souls • Ulo the Keeper of the Waters • Wendigo • Widow
Tier 3
Abomination • Aeon's Hourglass • Attak Seru, the Mirage • Blind Sage • Crossroads • Devotion • Dying God • Ishtak, the Spring Maiden • Leviathan • Light of Empyrion • Mogdrogen the Wolf • Obelisk of Menhir • Oleron • Rattosh, the Veilwarden • Spear of the Heavens • Tree of Life • Ulzuin's Torch • Ultos, Shepherd of Storms • Unknown Soldier • Vire, the Stone Matron