Empowered Black Grimoire of Og'Napesh
The Empowered Black Grimoire of Og'Napesh is an Epic off-hand focus item.
The Granted Skill allows the player to summon a Skeletal revenant as a pet. Note that the Revenant has additional abilities not listed in the item description (see Additional Information).
Empowered Black Grimoire of Og'Napesh
"The dark writings of Og'Napesh, condemned necromancer."
Epic Off-Hand

+74%

Vitality Damage

+30

Spirit

+35

Offensive Ability

+5.3

Energy Regenerated per second

+10%

Casting Speed

+16%

Skill Cooldown Reduction

+2

to Soul Harvest
Bonus to All Pets
+30%

to All Damage

+6%

Movement Speed
Granted Skills
Summon Revenant of Og'Napesh (Granted by Item)

Channel the dark writings of the Grimoire of Og'Napesh to summon his most foul revenant back into the world of the living.

Only one revenant can be summoned at any one time. The revenant scales with Pet Bonuses.
200

Energy Cost

30

Second Skill Recharge
Revenant of Og'Napesh Attributes:

10176

Health

1286

Energy

Revenant of Og'Napesh Abilities:

146-321

Physical Damage

122

Fire Damage
Required Player Level: 75
Required Spirit: 632
Item Level: 75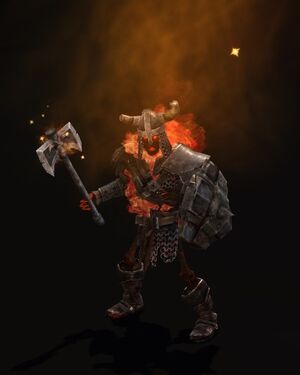 Skill
Description
Stats
Melee Strike
aoe attack skill

3 Target Maximum
242-455 Physical Damage
200 Fire Damage
222 Burn Damage over 3 Seconds
20% Current Life Reduction

Fireball Nova
Projectile aoe

12 projectiles in a 360 degree radius
1.5 meter Explosion Radius
122-165 Physical Damage
280 Fire Damage
110 Burn Damage over 2 Seconds

Shield Defense
The Revenant protects nearby allies against crowd control, and bolsters their armor and retaliation.

32 Second Skill Recharge
8 Second Duration
15 meter Radius
Increases Armor by 20%
15% Damage Reflected
x Pierce Retaliation
25% Trap, Petrify, Freeze & Sleep Resistance

Ring of Flame
The Revenant surrounds himself with an aura that deals Burn damage to nearby enemies.

20 Second Skill Recharge
6 Second Duration
3 Meter Radius
82 Fire Damage
66 Burn Damage over 2 seconds
Revenant charLevel = playerlevel*1
| | |
| --- | --- |
| Physique | (charLevel*6.5)+35 |
| Cunning | (charLevel*6)+40 |
| Spirit | (charLevel*5)+20 |
| Health | ((charLevel*17)^1.29)+35 |
| Energy | ((charLevel*5)^1.2)+60 |
| Offensive Ability | (charLevel*6)+45 |
| Defensive Ability | (charLevel*5.5)+25 |
| | |
| --- | --- |
| Physical | 25 |
| Pierce | 20 |
| Cold | 0 |
| Fire | 50 |
| Lightning | 0 |
| Aether | 0 |
| Chaos | 0 |
| Poison | 0 |
| Vitality | 0 |
| Freeze | 0 |
| Knockdown | 0 |
| Petrify | 0 |
| Sleep | 0 |
| Stun | 0 |
| Trap | 0 |
Constellations
Tier 1

Anvil • Empty Throne • Falcon • Hammer • Harpy • Owl • Shepherd's Crook • Toad • Wolverine

Fiend • Ghoul • Jackal • Rat • Viper • Vulture • Wretch

Akeron's Scorpion • Bat • Eye of the Guardian • Fox • Hawk • Quill • Raven • Scholar's Light • Spider

Assassin's Blade • Crane • Dryad • Lion • Panther • Stag • Tortoise

Bull • Eel • Gallows • Hound • Imp • Lizard • Sailor's Guide • Tsunami • Wraith
Tier 2
Affliction • Alladrah's Phoenix • Amatok the Spirit of Winter • Assassin • Autumn Boar • Bard's Harp • Behemoth • Berserker • Blades of Nadaan • Bysmiel's Bonds • Chariot of the Dead • Crab • Dire Bear • Harvestman's Scythe • Huntress • Hydra • Kraken • Magi • Manticore • Messenger of War • Murmur, Mistress of Rumors • Oklaine's Lantern • Revenant • Rhowan's Crown • Rhowan's Scepter • Scales of Ulcama • Shieldmaiden • Solael's Witchblade • Solemn Watcher • Staff of Rattosh • Targo the Builder • Tempest • Typhos, the Jailor of Souls • Ulo the Keeper of the Waters • Wendigo • Widow
Tier 3
Abomination • Aeon's Hourglass • Attak Seru, the Mirage • Blind Sage • Crossroads • Devotion • Dying God • Ishtak, the Spring Maiden • Leviathan • Light of Empyrion • Mogdrogen the Wolf • Obelisk of Menhir • Oleron • Rattosh, the Veilwarden • Spear of the Heavens • Tree of Life • Ulzuin's Torch • Ultos, Shepherd of Storms • Unknown Soldier • Vire, the Stone Matron