Egellon - Forgotten Smith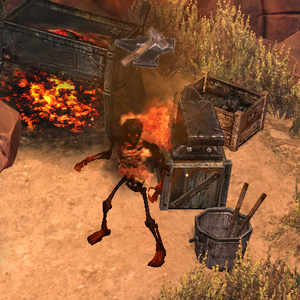 Egellon - Forgotten Smith is a Blacksmith in the Forgotten Gods Expansion. He can be found in the Shrine of Azaleon, a hidden area east and then south of the Sunbane Oasis rift.
Apart from regular crafting services, Egellon is unique in offering to trade Celestial Essence for random crafting materials.
He will also turn 1 Celestial Lotus into 1 Eldritch Essence.
Crafted weapons, armor and accessories are imbued with one of the following properties:
+1-3% Movement Speed
+2-4% Slow Resistance
2-6% Reflected Damage Reduction