In the next few weeks, your wiki will be migrated to a Fandom.com domain. Learn more here.
Conjure Primal Spirit (Skill)
 

Conjure Primal Spirit

Mastery:
Shaman
Tier:
9
Skill Type:
Active
Max. Level:
12
Cooldown:
yes
Associated Skills:
N/A
Legends speak of a great predator, the loyal pet of Mogdrogen, which relentlessly hunts down anyone that treads into the beast god's domain uninvited. As a favored follower of Mogdrogen, you call upon this Primal Spirit to aid you in battle.
The Primal Spirit scales with Pet Bonuses.
This skill temporarily summons a Manticore to aid the player. In addition to the listed abilities, The Primal Spirit has the following skills:
Shadow Strike (Physical,Poison Damage over 3 Seconds)
Maul (Physical,Bleeding Damage over 3 Seconds, 5 target maximum with a 200 degree attack arc)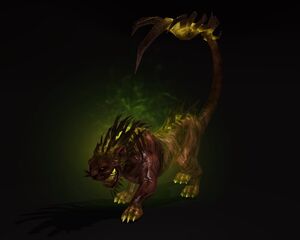 Updated to: v1.1.5.1
Base Levels
Level
Stats
1/12

200 Energy Cost
40 Second Skill Recharge

Primal Spirit Attributes:
Lives for 20 Seconds
x Health
x Energy

Primal Spirit Abilities:
+0% to All Damage
+0% Crit Damage
+0% Health
Claw and Fang Attacks

76-85

Physical Damage

54

Bleeding Damage over

3

Seconds

Tail Strike

100%

Basic Pet Attack Damage

76-85

Piercing Damage

256

Poison Damage over

8

Seconds
Stun target for

3

Seconds

2/12

210 Energy Cost
40 Second Skill Recharge

Primal Spirit Attributes:
Lives for 20 Seconds
x Health
x Energy

Primal Spirit Abilities:
+10% to All Damage
+5% Crit Damage
+7% Health
Claw and Fang Attacks

97-107

Physical Damage

72

Bleeding Damage over

3

Seconds

Tail Strike

97-107

Piercing Damage

336

Poison Damage over

8

Seconds

3/12

220 Energy Cost
40 Second Skill Recharge

Primal Spirit Attributes:
Lives for 20 Seconds
x Health
x Energy

Primal Spirit Abilities:
+18% to All Damage
+9% Crit Damage
+14% Health
Claw and Fang Attacks

118-129

Physical Damage

90

Bleeding Damage over

3

Seconds

Tail Strike

118-129

Piercing Damage

416

Poison Damage over

8

Seconds

4/12

230 Energy Cost
40 Second Skill Recharge

Primal Spirit Attributes:
Lives for 20 Seconds
x Health
x Energy

Primal Spirit Abilities:
+28% to All Damage
+12% Crit Damage
+21% Health
Claw and Fang Attacks

139-151

Physical Damage

108

Bleeding Damage over

3

Seconds

Tail Strike

139-151

Piercing Damage

496

Poison Damage over

8

Seconds

5/12

240 Energy Cost
40 Second Skill Recharge

Primal Spirit Attributes:
Lives for 20 Seconds
x Health
x Energy

Primal Spirit Abilities:
+36% to All Damage
+15% Crit Damage
+28% Health
Claw and Fang Attacks

160-173

Physical Damage

126

Bleeding Damage over

3

Seconds

Tail Strike

160-173

Piercing Damage

576

Poison Damage over

8

Seconds

6/12

250 Energy Cost
40 Second Skill Recharge

Primal Spirit Attributes:
Lives for 20 Seconds
x Health
x Energy

Primal Spirit Abilities:
+45% to All Damage
+18% Crit Damage
+35% Health
Claw and Fang Attacks

181-195

Physical Damage

144

Bleeding Damage over

3

Seconds

Tail Strike

181-195

Piercing Damage

656

Poison Damage over

8

Seconds

7/12

260 Energy Cost
40 Second Skill Recharge

Primal Spirit Attributes:
Lives for 20 Seconds
x Health
x Energy

Primal Spirit Abilities:
+53% to All Damage
+21% Crit Damage
+42% Health
Claw and Fang Attacks

202-217

Physical Damage

162

Bleeding Damage over

3

Seconds

Tail Strike

202-217

Piercing Damage

736

Poison Damage over

8

Seconds

8/12

270 Energy Cost
40 Second Skill Recharge

Primal Spirit Attributes:
Lives for 20 Seconds
x Health
x Energy

Primal Spirit Abilities:
+62% to All Damage
+24% Crit Damage
+49% Health
Claw and Fang Attacks

223-239

Physical Damage

180

Bleeding Damage over

3

Seconds

Tail Strike

223-239

Piercing Damage

816

Poison Damage over

8

Seconds

9/12

280 Energy Cost
40 Second Skill Recharge

Primal Spirit Attributes:
Lives for 20 Seconds
x Health
x Energy

Primal Spirit Abilities:
+70% to All Damage
+27% Crit Damage
+56% Health
Claw and Fang Attacks

244-261

Physical Damage

198

Bleeding Damage over

3

Seconds

Tail Strike

244-261

Piercing Damage

896

Poison Damage over

8

Seconds

10/12

290 Energy Cost
40 Second Skill Recharge

Primal Spirit Attributes:
Lives for 20 Seconds
x Health
x Energy

Primal Spirit Abilities:
+80% to All Damage
+29% Crit Damage
+64% Health
Claw and Fang Attacks

265-283

Physical Damage

216

Bleeding Damage over

3

Seconds

Tail Strike

265-283

Piercing Damage

976

Poison Damage over

8

Seconds

11/12

300 Energy Cost
40 Second Skill Recharge

Primal Spirit Attributes:
Lives for 20 Seconds
x Health
x Energy

Primal Spirit Abilities:
+90% to All Damage
+31% Crit Damage
+72% Health
Claw and Fang Attacks

286-305

Physical Damage

234

Bleeding Damage over

3

Seconds

Tail Strike

286-305

Piercing Damage

1056

Poison Damage over

8

Seconds

12/12

310 Energy Cost
40 Second Skill Recharge

Primal Spirit Attributes:
Lives for 20 Seconds
x Health
x Energy

Primal Spirit Abilities:
+100% to All Damage
+33% Crit Damage
+80% Health
Claw and Fang Attacks

308-328

Physical Damage

252

Bleeding Damage over

3

Seconds

Tail Strike

308-328

Piercing Damage

1136

Poison Damage over

8

Seconds
Ultimate Levels
Level
Stats
13/12

320 Energy Cost
40 Second Skill Recharge

Primal Spirit Attributes:
Lives for 20 Seconds
x Health
x Energy

Primal Spirit Abilities:
+105% to All Damage
+34% Crit Damage
+84% Health
Claw and Fang Attacks

330-351

Physical Damage

273

Bleeding Damage over

3

Seconds

Tail Strike

330-351

Piercing Damage

1224

Poison Damage over

8

Seconds

14/12

330 Energy Cost
40 Second Skill Recharge

Primal Spirit Attributes:
Lives for 20 Seconds
x Health
x Energy

Primal Spirit Abilities:
+114% to All Damage
+35% Crit Damage
+91% Health
Claw and Fang Attacks

352-374

Physical Damage

294

Bleeding Damage over

3

Seconds

Tail Strike

352-374

Piercing Damage

1312

Poison Damage over

8

Seconds

15/12

340 Energy Cost
40 Second Skill Recharge

Primal Spirit Attributes:
Lives for 20 Seconds
x Health
x Energy

Primal Spirit Abilities:
+122% to All Damage
+36% Crit Damage
+98% Health
Claw and Fang Attacks

374-397

Physical Damage

315

Bleeding Damage over

3

Seconds

Tail Strike

374-397

Piercing Damage

1400

Poison Damage over

8

Seconds

16/12

350 Energy Cost
40 Second Skill Recharge

Primal Spirit Attributes:
Lives for 20 Seconds
x Health
x Energy

Primal Spirit Abilities:
+131% to All Damage
+37% Crit Damage
+105% Health
Claw and Fang Attacks

396-420

Physical Damage

336

Bleeding Damage over

3

Seconds

Tail Strike

396-420

Piercing Damage

1488

Poison Damage over

8

Seconds

17/12

360 Energy Cost
40 Second Skill Recharge

Primal Spirit Attributes:
Lives for 20 Seconds
x Health
x Energy

Primal Spirit Abilities:
+139% to All Damage
+38% Crit Damage
+112% Health
Claw and Fang Attacks

418-443

Physical Damage

357

Bleeding Damage over

3

Seconds

Tail Strike

418-443

Piercing Damage

1576

Poison Damage over

8

Seconds

18/12

370 Energy Cost
40 Second Skill Recharge

Primal Spirit Attributes:
Lives for 20 Seconds
x Health
x Energy

Primal Spirit Abilities:
+148% to All Damage
+39% Crit Damage
+119% Health
Claw and Fang Attacks

441-467

Physical Damage

381

Bleeding Damage over

3

Seconds

Tail Strike

441-467

Piercing Damage

1672

Poison Damage over

8

Seconds

19/12

380 Energy Cost
40 Second Skill Recharge

Primal Spirit Attributes:
Lives for 20 Seconds
x Health
x Energy

Primal Spirit Abilities:
+156% to All Damage
+40% Crit Damage
+126% Health
Claw and Fang Attacks

464-491

Physical Damage

405

Bleeding Damage over

3

Seconds

Tail Strike

464-491

Piercing Damage

1768

Poison Damage over

8

Seconds

20/12

390 Energy Cost
40 Second Skill Recharge

Primal Spirit Attributes:
Lives for 20 Seconds
x Health
x Energy

Primal Spirit Abilities:
+165% to All Damage
+41% Crit Damage
+133% Health
Claw and Fang Attacks

490-520

Physical Damage

435

Bleeding Damage over

3

Seconds

Tail Strike

490-520

Piercing Damage

1888

Poison Damage over

8

Seconds

21/12

400 Energy Cost
40 Second Skill Recharge

Primal Spirit Attributes:
Lives for 20 Seconds
x Health
x Energy

Primal Spirit Abilities:
+173% to All Damage
+42% Crit Damage
+140% Health
Claw and Fang Attacks

516-550

Physical Damage

465

Bleeding Damage over

3

Seconds

Tail Strike

516-550

Piercing Damage

1016

Poison Damage over

8

Seconds

22/12

410 Energy Cost
40 Second Skill Recharge

Primal Spirit Attributes:
Lives for 20 Seconds
x Health
x Energy

Primal Spirit Abilities:
+185% to All Damage
+45% Crit Damage
+150% Health
Claw and Fang Attacks

546-595

Physical Damage

510

Bleeding Damage over

3

Seconds

Tail Strike

546-595

Piercing Damage

2176

Poison Damage over

8

Seconds
charLevel= playerlevel*1+2
| | |
| --- | --- |
| Health | ((charLevel*23)^1.29)+500 |
| Energy | ((charLevel*5)^1.2)+150 |
| Physique | (charLevel*9)+30 |
| Cunning | (charLevel*9)+40 |
| Spirit | (charLevel*9)+30 |
| Offensive Ability | (charLevel*10)+80 |
| Defensive Ability | (charLevel*8)+50 |
| | |
| --- | --- |
| Physical | 30 |
| Pierce | 25 |
| Cold | 25 |
| Fire | 25 |
| Lightning | 25 |
| Aether | 25 |
| Chaos | 25 |
| Poison | 0 |
| Vitality | 0 |
| Freeze | 500 |
| Knockdown | 500 |
| Petrify | 500 |
| Sleep | 500 |
| Stun | 500 |
| Trap | 500 |
Constellations
Tier 1

Anvil • Empty Throne • Falcon • Hammer • Harpy • Owl • Shepherd's Crook • Toad • Wolverine

Fiend • Ghoul • Jackal • Rat • Viper • Vulture • Wretch

Akeron's Scorpion • Bat • Eye of the Guardian • Fox • Hawk • Quill • Raven • Scholar's Light • Spider

Assassin's Blade • Crane • Dryad • Lion • Panther • Stag • Tortoise

Bull • Eel • Gallows • Hound • Imp • Lizard • Sailor's Guide • Tsunami • Wraith
Tier 2
Affliction • Alladrah's Phoenix • Amatok the Spirit of Winter • Assassin • Autumn Boar • Bard's Harp • Behemoth • Berserker • Blades of Nadaan • Bysmiel's Bonds • Chariot of the Dead • Crab • Dire Bear • Harvestman's Scythe • Huntress • Hydra • Kraken • Magi • Manticore • Messenger of War • Murmur, Mistress of Rumors • Oklaine's Lantern • Revenant • Rhowan's Crown • Rhowan's Scepter • Scales of Ulcama • Shieldmaiden • Solael's Witchblade • Solemn Watcher • Staff of Rattosh • Targo the Builder • Tempest • Typhos, the Jailor of Souls • Ulo the Keeper of the Waters • Wendigo • Widow
Tier 3
Abomination • Aeon's Hourglass • Attak Seru, the Mirage • Blind Sage • Crossroads • Devotion • Dying God • Ishtak, the Spring Maiden • Leviathan • Light of Empyrion • Mogdrogen the Wolf • Obelisk of Menhir • Oleron • Rattosh, the Veilwarden • Spear of the Heavens • Tree of Life • Ulzuin's Torch • Ultos, Shepherd of Storms • Unknown Soldier • Vire, the Stone Matron