In the next few weeks, your wiki will be migrated to a Fandom.com domain. Learn more here.
Chest Armor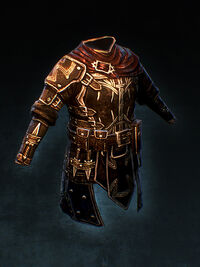 See also Armor, Unique Chest Armor
Chest armor In Grim Dawn comes in three different types: Light, Heavy and Caster. Heavy armor has a higher armor rating and Physique requirement than light armor, while caster armor has an extra Spirit requirement and offers additional energy regeneration.
Name
Base Stats
Requirements
Item Level
Worn Clothing
12 Armor
Physique: 22
1
Worn Clothing
12 Armor
Physique: 22
1
Worn Clothing
12 Armor
Physique: 22
1
Worn Clothing
12 Armor
Physique: 22
1
Worn Clothing
12 Armor
Physique: 22
1
Worn Clothing
12 Armor
Physique: 22
1
Fur-lined Jacket
18 Armor
Physique: 48
1
Leather Coat
23 Armor
Physique: 33
3
Quilted Armor
40 Armor
Physique: 52
6
Hide Jacket
45 Armor
Physique: 59
7
Quilted Coat
51 Armor
Physique: 99
9
Brigandine Armor
61 Armor
Physique: 85
11
Patchwork Doublet
66 Armor
Physique: 92
12
Brigandine Jacket
77 Armor
Physique: 130
13
Engraved Coat
90 Armor
Physique: 143
19
Salvaged Breastplate
124 Armor
Physique: 182
19
Murderer's Armor
124 Armor
+10 Defensive Ability
8% Chance to Avoid Projectiles
Player Level: 19
Physique: 155
21
Chain Armor
151 Armor
Physique: 183
25
Infantry Doublet
157 Armor
Physique: 183
25
Infantry Chestguard
179 Armor
Physique: 239
25
Bronze Cuirass
231 Armor
Physique: 239
33
Plate Harness
266 Armor
Physique: 318
33
Frontier Hauberk
316 Armor
 Physique: 296
41
Hinterland Breastplate
512 Armor
Physique: 366
51
Imperial Hauberk
702 Armor
Physique: 429
60
Assault Hauberk
956 Armor
Physique: 512
72
Preserver Cuirass  AoM
1235 Armor
Physique: 595
84
Redeemer Chestguard  AoM
1488 Armor
Physique: 662
94
Name
Base Stats
Requirements
Item Level
Patchwork Jacket
26 Armor
Physique: 64
4
Salvaged Armor
58 Armor
Physique: 118
9
Padded Trenchcoat
85 Armor
Physique: 158
13
Plate Armor
135 Armor
Physique: 221
19
Chain Trenchcoat
192 Armor
Physique: 286
25
Fleshwarped Cuirass
200 Armor
6% Pierce Resistance
+1 to Counter Strike
Player Level: 25
Physique: 286
25
Splinted Surcoat
284 Armor
Physique: 372
33
Heavy Surcoat
390 Armor
Physique: 459
41
Assault Chainmail
630 Armor
Physique: 568
51
Imperial Platemail
864 Armor
Physique: 667
60
Exalted Platemail
1175 Armor
Physique: 797
72
Preserver Breastplate  AoM
1519 Armor
Physique: 927
84
Redeemer Platemail  AoM
1828 Armor
Physique: 1035
94
Name
Base Stats
Requirements
Item Level
Novice Tunic
18 Armor


+1.8 Energy Regenerated per second

Physique: 27
Spirit: 56
3
Apprentice Tunic
37 Armor


+2.5 Energy Regenerated per second

Physique: 50
Spirit: 101
8
Leather Vestment
56 Armor


+3 Energy Regenerated per second

Physique: 71
Spirit: 134
13
Restored Raiment
91 Armor


+3.5 Energy Regenerated per second

Physique: 98
Spirit: 181
19
Embroidered Raiment
132 Armor


+4 Energy Regenerated per second

Physique: 126
Spirit: 225
25
Haunted Robes
136 Armor
+9% Aether Damage
+4  Energy Regenerated per second
+1 to Callidor's Tempest
Player Level: 25
Physique: 126
Spirit: 225
25
Ascended Robes
197 Armor
+9% Elemental Damage
+4 Energy Regenerated per second
+4% Casting Speed
+1 to Inquisitor Seal
Player Level: 30
Physique: 150
Spirit: 261
30
Ornate Robe
196 Armor


+4.4 Energy Regenerated per second

Physique: 164
Spirit: 281
33
Bloodsworn Robes
203 Armor
+12% Chaos Damage
7% Less Damage from Chthonics
+4 Energy Regenerated per second
Physique: 173
Spirit: 295
35
Gilded Vestment
267 Armor


+4.8 Energy Regenerated per second

Physique: 201
Spirit: 333
41
Opulent Robe
433 Armor


+5.2 Energy Regenerated per second

Physique: 248
Spirit: 393
51
Imperial Raiment
595 Armor


+5.6 Energy Regenerated per second

Physique: 290
Spirit: 442
60
Exalted Vestment
811 Armor


+6 Energy Regenerated per second

Physique: 345
Spirit: 502
72
Preserver Robe  AoM
1048 Armor


+6.2 Energy Regenerated per second

Physique: 399
Spirit: 555
84
Redeemer Raiment  AoM
1261 Armor


+6.4 Energy Regenerated per second

Physique: 444
Spirit: 594
94
Name
Base Stats
Requirements
Item Level
Fortified Doublet
56 Armor
+96 Health
+10 Defensive Ability
+1 Energy Regenerated per second
10% Fire Resistance
10% Cold Resistance
Player Level: 15
Physique: 78
18
Murderer's Breastplate
105 Armor
6% Pierce Resistance
+7 Offensive Ability
+3% Chance to Avoid Projectiles
Player Level: 19
Physique: 162
21
Fleshwarped Platemail
200 Armor
6% Pierce Resistance
+5% Aether Resistance
+5 Defensive Ability
Player Level: 25
Physique: 314
25
Haunted Vestment
102 Armor
+5% Aether Damage
+12 Spirit
+4 Energy Regenerated per second
8% Aether Resistance
Player Level: 25
Physique: 135
Spirit: 231
25
Ascended Vestment
148 Armor
+8% Elemental Damage
+4.4 Energy Regenerated per second
50 Aether Retaliation
+2% Cast Speed
Player Level: 30
Physique: 193
Spirit: 269
30
Fleshwarped Platemail
292 Armor
12% Pierce Resistance
+12% Aether Resistance
+8 Defensive Ability
Player Level: 35
Physique: 410
35
Bloodsworn Vestments
152 Armor
+8% Chaos Damage
+4.4 Energy Regenerated per second
+2% Cast Speed
+8% Chaos Resistance
Player Level: 35
Physique: 171
Spirit: 306
35
Murderer's Breastplate
232 Armor
8% Pierce Resistance
+10 Offensive Ability
+3% Chance to Avoid Projectiles
Player Level: 35
Physique: 305
36
Fortified Doublet
323 Armor
+252 Health
+15 Defensive Ability
+1.3 Energy Regenerated per second
16% Fire Resistance
16% Cold Resistance
8% Aether Resistance
Player Level: 45
Physique: 392
45
Fleshwarped Platemail
542 Armor
14% Pierce Resistance
+14% Aether Resistance
+12 Defensive Ability
Player Level: 50
Physique: 677
50
Haunted Vestment
278 Armor


+8% Aether Damage


+16 Spirit
+5.2 Energy Regenerated per second
12% Aether Resistance
Player Level: 50
Physique: 360
Spirit: 413
50
Ascended Vestment
278 Armor
+12% Elemental Damage
+5.2 Energy Regenerated per second
132 Aether Retaliation
+2% Cast Speed
Player Level: 50
Physique: 283
Spirit: 413
50
Bloodsworn Vestments
278 Armor
+12% Chaos Damage
+5.5 Energy Regenerated per second
+2% Cast Speed
+12% Chaos Resistance
Physique: 283
Spirit: 413
50
Murderer's Breastplate
375 Armor
12% Pierce Resistance
+13 Offensive Ability
+3% Chance to Avoid Projectiles
Player Level: 52
Physique: 421
52
Fortified Doublet
195 Armor
+420 Health
+25 Defensive Ability
+1.7 Energy Regenerated per second
35% Fire Resistance
35% Cold Resistance
18% Aether Resistance
Player Level: 70
Physique: ?
70
Murderer's Breastplate
634 Armor
20% Pierce Resistance
+16 Offensive Ability
+3% Chance to Avoid Projectiles
Player Level: 70
Physique: 637
70
Fleshwarped Platemail
918 Armor
20% Pierce Resistance
+20% Aether Resistance
+15 Defensive Ability
Player Level: 70
Physique: 984
70
Haunted Vestment
472 Armor
+11% Aether Damage
+20 Spirit+6 Energy Regenerated per second
20% Aether Resistance
Player Level: 70
Physique: 414
Spirit: 544
70
Ascended Vestment
472 Armor
+15% Elemental Damage
+6 Energy Regenerated per second
165 Aether Retaliation
+2% Cast Speed
Player Level: 70
Physique: 414
Spirit: 544
70
Bloodsworn Vestments
472 Armor
+15% Chaos Damage
+6.5 Energy Regenerated per second
+2% Cast Speed
20% Chaos Resistance
Physique: 414
Spirit: 544
70
Empowered Epic Chest Armor
[
edit
|
edit source
]
Name
Stats
Requirements
Item Level
Devil's Cage Hauberk
50
Fiendscale Jacket
50
Gazer Man
50
Shroud of Illusion
58
Dread Armor of Azragor
65
Vestments of the Great Guardian
65
Korvoran's Chestguard
Player Level: 75

Physique: 618

75
Chestguard of Justice
68
65
Beastcaller's Shroud
68
65
Demonslayer's Jacket
68
65
Clairvoyant's Robe
65
Bloodrager's Coat
Player Level: 75

Physique: 618

75
Deathmarked Jacket
Player Level: 75

Physique: 618

75
Divinesteel Hauberk
Player Level: 75

Physique: 970

75
Fiendmaster Raiment
Player Level: 75

Physique: 397
Spirit: 575

75
Frostdread Cuirass
Player Level: 75

Physique: 618

75
Infernal Knight's Jacket
Player Level: 75

Physique: 618

75
Iskandra's Vestments
Player Level: 75

Physique: 397
Spirit: 575

75
Light's Defender Plate
Player Level: 75

Physique: 970

75
Markovian's Platemail
Player Level: 75

Physique: 970

75
Stealth Jacket of the Venomblade
Player Level: 75

Physique: 618

75
Trozan's Vestments
Player Level: 75

Physique: 397
Spirit: 575

75
Ultos' Cuirass
Player Level: 75

Physique: 618

75
Ulzuin's Chestguard
Player Level: 75

Physique: 618

75
Valdun's Jacket
Player Level: 75

Physique: 618

75
Vestments of Agrivix
Player Level: 75

Physique: 397
Spirit: 575

75
Vestments of Dreeg
Player Level: 75

Physique: 397
Spirit: 575

75
Warborn Chestguard
Player Level: 75

Physique: 970

75
Components for use in Chest Armor
[
edit
|
edit source
]
Constellations
Tier 1

Anvil • Empty Throne • Falcon • Hammer • Harpy • Owl • Shepherd's Crook • Toad • Wolverine

Fiend • Ghoul • Jackal • Rat • Viper • Vulture • Wretch

Akeron's Scorpion • Bat • Eye of the Guardian • Fox • Hawk • Quill • Raven • Scholar's Light • Spider

Assassin's Blade • Crane • Dryad • Lion • Panther • Stag • Tortoise

Bull • Eel • Gallows • Hound • Imp • Lizard • Sailor's Guide • Tsunami • Wraith
Tier 2
Affliction • Alladrah's Phoenix • Amatok the Spirit of Winter • Assassin • Autumn Boar • Bard's Harp • Behemoth • Berserker • Blades of Nadaan • Bysmiel's Bonds • Chariot of the Dead • Crab • Dire Bear • Harvestman's Scythe • Huntress • Hydra • Kraken • Magi • Manticore • Messenger of War • Murmur, Mistress of Rumors • Oklaine's Lantern • Revenant • Rhowan's Crown • Rhowan's Scepter • Scales of Ulcama • Shieldmaiden • Solael's Witchblade • Solemn Watcher • Staff of Rattosh • Targo the Builder • Tempest • Typhos, the Jailor of Souls • Ulo the Keeper of the Waters • Wendigo • Widow
Tier 3
Abomination • Aeon's Hourglass • Attak Seru, the Mirage • Blind Sage • Crossroads • Devotion • Dying God • Ishtak, the Spring Maiden • Leviathan • Light of Empyrion • Mogdrogen the Wolf • Obelisk of Menhir • Oleron • Rattosh, the Veilwarden • Spear of the Heavens • Tree of Life • Ulzuin's Torch • Ultos, Shepherd of Storms • Unknown Soldier • Vire, the Stone Matron