Bring Out Your Dead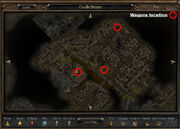 This is an Act 6 side quest, offered by Captain Wilfor in the Malmouth Sewers after completing Malmouth, the Fallen City.
The Aetherials have been gathering the dead and transporting them to Crown Hill to use as fuel for their experiments and material for their army. The Aetherial gathering efforts are concentrated around the Candle District. Captain Wilfor asks you to destroy their Corpse Wagons.
Destroy the northern Wagon
Destroy the southern Wagon
Destroy the eastern Wagon
Speak to Captain Wilfor in the Resistance Hideout
The Corpse Wagons can be found without trouble in the Candle District. Return to Captain Wilfor when all three are destroyed.
Normal
Elite
Ultimate
XP
15000
30000
62000
Iron
8000
12000
24000
Malmouth Resistance
Reputation
+250
Item
Quest log
Captain Wilfor has informed you of a despicable act the Aetherials are performing across Malmouth. The bodies of the dead are rounded up and transported to Crown Hill via wagons loaded up in the Candle District. It's become quite abundantly clear what the bodies are used for, so any chance to sabotage that supply chain is in everybody's benefit.

Objectives:
Destroy the northern Wagon
Destroy the southern Wagon
Destroy the eastern Wagon
You have sabotaged the corpse wagons and should report back to Captain Wilfor at the Resistance Hideout

Objectives:
Speak to Captain Wilfor in the Resistance Hideout