Bounty: Lord of Lost Souls

Lord of Lost Souls is a Rovers Faction Bounty.
In the Arkovian Foothills, there is a cavern known as the Spined Cove. There, an ancient Arkovian spirit known as Baron Wradlith has dominated over the other spirits, rallying them under his command.
For now, the spirits remain within the caves, but the undead can be unpredictable. This Lord of the Lost Souls must be banished before he even considers leaving his underground kingdom.
Slay Baron Wradlith (0/1)
Return to the Rover Bounty Table
Baron Wradlith, Lord of the Lost Souls is located in the Spined Cove.
Normal
Elite
Ultimate
XP
5000
9000
15000
Rovers
Reputation
+125
+300
+450
Undead
Reputation
-50
-100
-150
Item
Random Component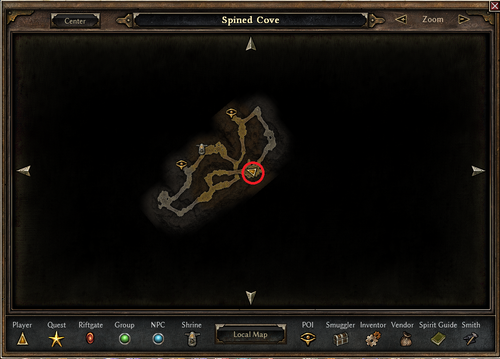 Constellations
Tier 1

Anvil • Empty Throne • Falcon • Hammer • Harpy • Owl • Shepherd's Crook • Toad • Wolverine

Fiend • Ghoul • Jackal • Rat • Viper • Vulture • Wretch

Akeron's Scorpion • Bat • Eye of the Guardian • Fox • Hawk • Quill • Raven • Scholar's Light • Spider

Assassin's Blade • Crane • Dryad • Lion • Panther • Stag • Tortoise

Bull • Eel • Gallows • Hound • Imp • Lizard • Sailor's Guide • Tsunami • Wraith
Tier 2
Affliction • Alladrah's Phoenix • Amatok the Spirit of Winter • Assassin • Autumn Boar • Bard's Harp • Behemoth • Berserker • Blades of Nadaan • Bysmiel's Bonds • Chariot of the Dead • Crab • Dire Bear • Harvestman's Scythe • Huntress • Hydra • Kraken • Magi • Manticore • Messenger of War • Murmur, Mistress of Rumors • Oklaine's Lantern • Revenant • Rhowan's Crown • Rhowan's Scepter • Scales of Ulcama • Shieldmaiden • Solael's Witchblade • Solemn Watcher • Staff of Rattosh • Targo the Builder • Tempest • Typhos, the Jailor of Souls • Ulo the Keeper of the Waters • Wendigo • Widow
Tier 3
Abomination • Aeon's Hourglass • Attak Seru, the Mirage • Blind Sage • Crossroads • Devotion • Dying God • Ishtak, the Spring Maiden • Leviathan • Light of Empyrion • Mogdrogen the Wolf • Obelisk of Menhir • Oleron • Rattosh, the Veilwarden • Spear of the Heavens • Tree of Life • Ulzuin's Torch • Ultos, Shepherd of Storms • Unknown Soldier • Vire, the Stone Matron