Bounty: Conastaria
Conastaria is a The Outcast Faction Bounty.
An Aetherial witch known as Conastaria has been spotted out in the Gruesome Harvest.
She was once a friend, now she serves a different purpose. I want her dead, destroyed, scattered to ashes.
Do so and I shall reward you with something from my collection.
Slay Conastaria (0/1)
Return to the Outcast's Bounty Table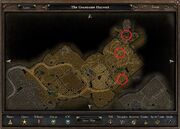 Conastaria is a Possesed Mage Hero, with three spawn points at the end of The Gruesome Harvest:
near the gates to the area with the trolls cages
inside the area between the cages on the eastern side
inside the Amalgamation's boss arena, outside the barn.
Normal
Elite
Ultimate
XP
5000
9000
15000
The Outcast
Reputation
+150
+300
+450
Aetherials
Reputation
-50
-100
-150
Item
Random Component
Constellations
Tier 1

Anvil • Empty Throne • Falcon • Hammer • Harpy • Owl • Shepherd's Crook • Toad • Wolverine

Fiend • Ghoul • Jackal • Rat • Viper • Vulture • Wretch

Akeron's Scorpion • Bat • Eye of the Guardian • Fox • Hawk • Quill • Raven • Scholar's Light • Spider

Assassin's Blade • Crane • Dryad • Lion • Panther • Stag • Tortoise

Bull • Eel • Gallows • Hound • Imp • Lizard • Sailor's Guide • Tsunami • Wraith
Tier 2
Affliction • Alladrah's Phoenix • Amatok the Spirit of Winter • Assassin • Autumn Boar • Bard's Harp • Behemoth • Berserker • Blades of Nadaan • Bysmiel's Bonds • Chariot of the Dead • Crab • Dire Bear • Harvestman's Scythe • Huntress • Hydra • Kraken • Magi • Manticore • Messenger of War • Murmur, Mistress of Rumors • Oklaine's Lantern • Revenant • Rhowan's Crown • Rhowan's Scepter • Scales of Ulcama • Shieldmaiden • Solael's Witchblade • Solemn Watcher • Staff of Rattosh • Targo the Builder • Tempest • Typhos, the Jailor of Souls • Ulo the Keeper of the Waters • Wendigo • Widow
Tier 3
Abomination • Aeon's Hourglass • Attak Seru, the Mirage • Blind Sage • Crossroads • Devotion • Dying God • Ishtak, the Spring Maiden • Leviathan • Light of Empyrion • Mogdrogen the Wolf • Obelisk of Menhir • Oleron • Rattosh, the Veilwarden • Spear of the Heavens • Tree of Life • Ulzuin's Torch • Ultos, Shepherd of Storms • Unknown Soldier • Vire, the Stone Matron