Belgothian's Slaughter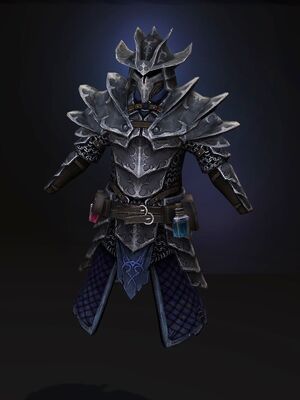 "Armor once worn by the infamous master Nightblade, Belgothian, whose reckless carnage and thirst for blood made even his employers uneasy."
Belgothian's Slaughter is a level 94 Legendary Item Set, available with the Ashes of Malmouth Expansion.
The set offers support for a Nightblade / Soldier build, and the complete set grants the player an Auto-attack Replacer skill, Belgothian's Strikes.
2/4 Set
+50 Defensive Ability
Increases Armor by 8%
3/4 Set
18 Piercing Damage
+5% Offensive Ability
4/4 Set
Increases Armor Piercing by 50%
+3 to Belgothian's Shears
+3 to Markovian's Advantage
Granted Skills

Belgothian's Strikes (Granted by Item)

Lash out at your foes with Belgothian's fury. When used as your default weapon attack,
Belgothian's Strikes increase the intensity of your attacks with every strike. Building
up charges increases the potency of the bonuses.
8 Energy Cost
8 Charge Levels: 30%, 50%, 65%, 80%, 90%, 100%, 108%, 115%
2 Second Charge Level Duration
155% Weapon Damage
40-45 Physical Damage
33 Piercing Damage
+110% Physical Damage
+110% Pierce Damage
+110% Internal Trauma Damage
+10% Attack Speed
Constellations
Tier 1

Anvil • Empty Throne • Falcon • Hammer • Harpy • Owl • Shepherd's Crook • Toad • Wolverine

Fiend • Ghoul • Jackal • Rat • Viper • Vulture • Wretch

Akeron's Scorpion • Bat • Eye of the Guardian • Fox • Hawk • Quill • Raven • Scholar's Light • Spider

Assassin's Blade • Crane • Dryad • Lion • Panther • Stag • Tortoise

Bull • Eel • Gallows • Hound • Imp • Lizard • Sailor's Guide • Tsunami • Wraith
Tier 2
Affliction • Alladrah's Phoenix • Amatok the Spirit of Winter • Assassin • Autumn Boar • Bard's Harp • Behemoth • Berserker • Blades of Nadaan • Bysmiel's Bonds • Chariot of the Dead • Crab • Dire Bear • Harvestman's Scythe • Huntress • Hydra • Kraken • Magi • Manticore • Messenger of War • Murmur, Mistress of Rumors • Oklaine's Lantern • Revenant • Rhowan's Crown • Rhowan's Scepter • Scales of Ulcama • Shieldmaiden • Solael's Witchblade • Solemn Watcher • Staff of Rattosh • Targo the Builder • Tempest • Typhos, the Jailor of Souls • Ulo the Keeper of the Waters • Wendigo • Widow
Tier 3
Abomination • Aeon's Hourglass • Attak Seru, the Mirage • Blind Sage • Crossroads • Devotion • Dying God • Ishtak, the Spring Maiden • Leviathan • Light of Empyrion • Mogdrogen the Wolf • Obelisk of Menhir • Oleron • Rattosh, the Veilwarden • Spear of the Heavens • Tree of Life • Ulzuin's Torch • Ultos, Shepherd of Storms • Unknown Soldier • Vire, the Stone Matron