As part of the Unified Community Platform project, this wiki and 38 others will be migrated to the new platform in the next few weeks. Minimal changes are expected as part of this migration. Read more here.
Arcanist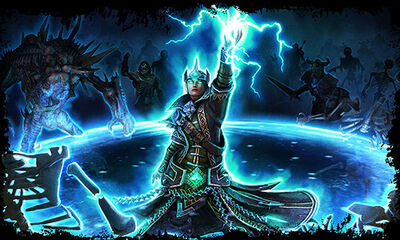 Arcanists are masters of the elements as well as the raw force of magic that forms the mysterious Aether. They manifest this power through anything ranging from trivial weapon enchantments to rays of pure destructive energy. Though Arcanists may have a few tricks up their sleeves to ensure their survival, the primary focus of their spell-work is in obliterating their enemies before they even need to resort to such tactics.
To Arcanists, the manifestation of magic is not some unexplainable mystery or the will of the gods, but a science meant to be unraveled. This pursuit of knowledge drives all Arcanists, always eager to discover a new technique to make their namesake. Arcanists warp the mysterious aether and elements to their will, creating devastating demonstrations of power that rival small armies. However, such raw force leaves little in terms of defense.
Overload

---

01/12

+10

Energy Reserved
Chance for one of the following:


30-48

Burn Damage over

3

Seconds


39

Frostburn Damage over

3

Seconds


12-56

Electrocute Damage over

3

Seconds


+14

Offensive Ability


3%

Aether Resistance

---

12/12

+120

Energy Reserved
Chance for one of the following:


129-213

Burn Damage over

3

Seconds


171

Frostburn Damage over

3

Seconds


45-297

Electrocute Damage over

3

Seconds


+146

Offensive Ability


25%

Aether Resistance

Elemental Balance

---

01/12

+10

Energy Reserved


+2%

Crit Damage


+12%

Burn Damage with

+10%

Increased Duration


+12%

Frostburn Damage with

+10%

Increased Duration


+12%

Electrocute Damage with

+10%

Increased Duration

---

12/12

+120

Energy Reserved


+25%

Crit Damage


+126%

Burn Damage with

+50%

Increased Duration


+126%

Frostburn Damage with

+50%

Increased Duration


+126%

Electrocute Damage with

+50%

Increased Duration

Conversion

---

01/10

0.2

Active Energy Cost per Second


+10

Energy Reserved


+15%

Energy Absorbed from Enemy Spells


5%

Reduced Stun Duration


5%

Reduced Freeze Duration


5%

Reduced Petrify Duration


5%

Reduced Entrapment Duration


5%

Slow Resistance

---

10/10

2

Active Energy Cost per Second


+100

Energy Reserved


+60%

Energy Absorbed from Enemy Spells


30%

Reduced Stun Duration


30%

Reduced Freeze Duration


30%

Reduced Petrify Duration


30%

Reduced Entrapment Duration


30%

Slow Resistance

Reckless Power

---

01/12
Exclusive Skill - only one Exclusive Skill can be active at any one time.


6-15

Aether Damage


+25%

Fire Damage


+25%

Aether Damage


+25%

Burn Damage


15%

Physical Damage converted to Aether Damage


+2%

Attack Speed


+2%

Casting Speed


40

Fire Retaliation


25%

Chance of

1

Second of Stun Retaliation

---

12/12

39-48

Aether Damage


+135%

Fire Damage


+135%

Aether Damage


+135%

Burn Damage


+12%

Attack Speed


+2%

Casting Speed


238

Fire Retaliation


50%

Chance of

1

Second of Stun Retaliation

Olexra's Flash Freeze

---

01/12
This spell freezes enemies for its duration. Enemies resistant to freeze effects will suffer a reduced duration.


30

Energy Cost


6

Second Skill Recharge


2

Second Duration


5

Meter Radius


8

Cold Damage


-10%

Fire Resistance

---

12/12

81

Energy Cost


4.5

Second Duration


16

Meter Radius


114

Cold Damage


-100%

Fire Resistance

Disintegration

---

01/12

+12.5

Energy Cost per Second


16

Lightning Damage


18

Electrocute Damage over

2

Seconds


+15%

Crit Damage


+10%

Fire Damage


+10%

Aether Damage

---

12/12

+50

Energy Cost per Second


109

Lightning Damage


128

Electrocute Damage over

2

Seconds


+55%

Crit Damage


+100%

Fire Damage


+100%

Aether Damage

Star Pact

---

01/12
Exclusive Skill - only one Exclusive Skill can be active at any one time.


36

Frostburn Damage over

3

Seconds


+25%

Cold Damage


+25%

Lightning Damage


+25%

Frostburn Damage


+25%

Electrocute Damage


15%

Physical Damage converted to Lightning Damage


15%

Aether Damage converted to Cold Damage


+1%

Skill Cooldown Reduction

---

12/12

102

Frostburn Damage over

3

Seconds


+135%

Cold Damage


+135%

Lightning Damage


+135%

Frostburn Damage


+135%

Electrocute Damage


15%

Physical Damage converted to Lightning Damage


40%

Aether Damage converted to Cold Damage


+10%

Skill Cooldown Reduction

Fabric of Reality

---

01/12

4

Aether Damage


4

Chaos Damage


+10%

Aether Damage


+10%

Chaos Damage


+4%

Damage to Aetherials


+4%

Damage to Aether Corruptions


+4%

Damage to Chthonics

---

12/12

21

Aether Damage


21

Chaos Damage


+100%

Aether Damage


+100%

Chaos Damage


+15%

Damage to Aetherials


+15%

Damage to Aether Corruptions


+15%

Damage to Chthonics

1
5
10
15
20
25
32
40
50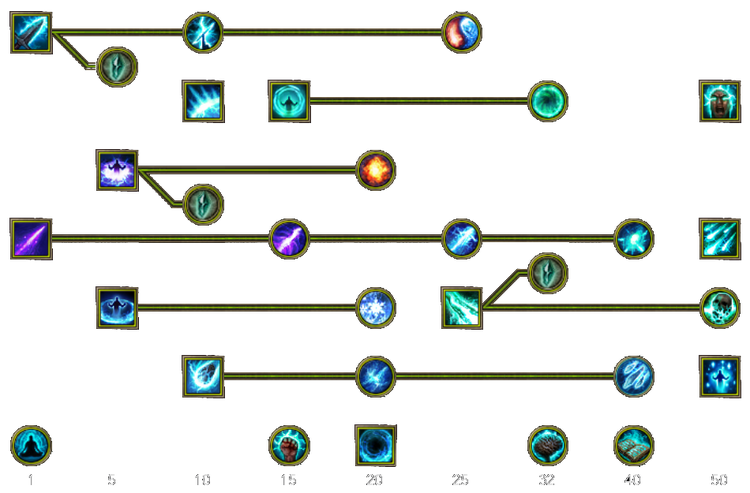 | | |
| --- | --- |
| | Conditioning of the body and mind to withstand the corrupting power of raw magic. |
Each point invested in the Arcanist skill mastery gives the following stat bonuses:
+2 Physique
+5 Spirit
+3 Cunning
+18 Health
+20 Energy
Combining the Arcanist with another Mastery forms the following hybrid classes:
Constellations
Tier 1


Anvil • Empty Throne • Falcon • Hammer • Harpy • Owl • Shepherd's Crook • Toad • Wolverine


Fiend • Ghoul • Jackal • Rat • Viper • Vulture • Wretch


Akeron's Scorpion • Bat • Eye of the Guardian • Fox • Hawk • Quill • Raven • Scholar's Light • Spider

Assassin's Blade • Crane • Dryad • Lion • Panther • Stag • Tortoise
Bull • Eel • Gallows • Hound • Imp • Lizard • Sailor's Guide • Tsunami • Wraith
Tier 2
Affliction • Alladrah's Phoenix • Amatok the Spirit of Winter • Assassin • Autumn Boar • Bard's Harp • Behemoth • Berserker • Blades of Nadaan • Bysmiel's Bonds • Chariot of the Dead • Crab • Dire Bear • Harvestman's Scythe • Huntress • Hydra • Kraken • Magi • Manticore • Messenger of War • Murmur, Mistress of Rumors • Oklaine's Lantern • Revenant • Rhowan's Crown • Rhowan's Scepter • Scales of Ulcama • Shieldmaiden • Solael's Witchblade • Solemn Watcher • Staff of Rattosh • Targo the Builder • Tempest • Typhos, the Jailor of Souls • Ulo the Keeper of the Waters • Wendigo • Widow
Tier 3
Abomination • Aeon's Hourglass • Attak Seru, the Mirage • Blind Sage • Crossroads • Devotion • Dying God • Ishtak, the Spring Maiden • Leviathan • Light of Empyrion • Mogdrogen the Wolf • Obelisk of Menhir • Oleron • Rattosh, the Veilwarden • Spear of the Heavens • Tree of Life • Ulzuin's Torch • Ultos, Shepherd of Storms • Unknown Soldier • Vire, the Stone Matron